It should be! Here's why.
The children tumble out of the van one on top of the other, excitedly clambering to inhale a deep breath of fresh mountain air. The snow sparkles like a blanket of white, flecked with a million tiny diamonds. The trees seem like ballerinas posing on a stage, the snow circling them like stiff white tutus. There's not a cloud to be seen in the bright azure sky.
SWITZERLAND
We are in Switzerland! We are staying in the French-speaking region of Switzerland in the city of Lausanne, also called the Olympic Capital. It's a charming town nestled along Lake Geneva. In Lausanne, the medieval-aged streets and a 12th-century Gothic cathedral are captivating against the backdrop of snow-capped mountains. And down by the shoreline of Lake Geneva, further mountains stand resolute across the lake. The International Olympic Committee calls this place home, and we can see why.
The Swiss Alps offer dramatic mountain scenery – a shocking 38 peaks soaring over 4,000 meters. This, together with the glistening lakes, captivates one in such a way that it beckons you to always linger longer than you planned. Up in the mountains, brown chalets dot the mountainside like villages made of gingerbread houses sprinkled with sugary icing.
In short, when you are in Switzerland, you are swept into a magical, wintery wonderland.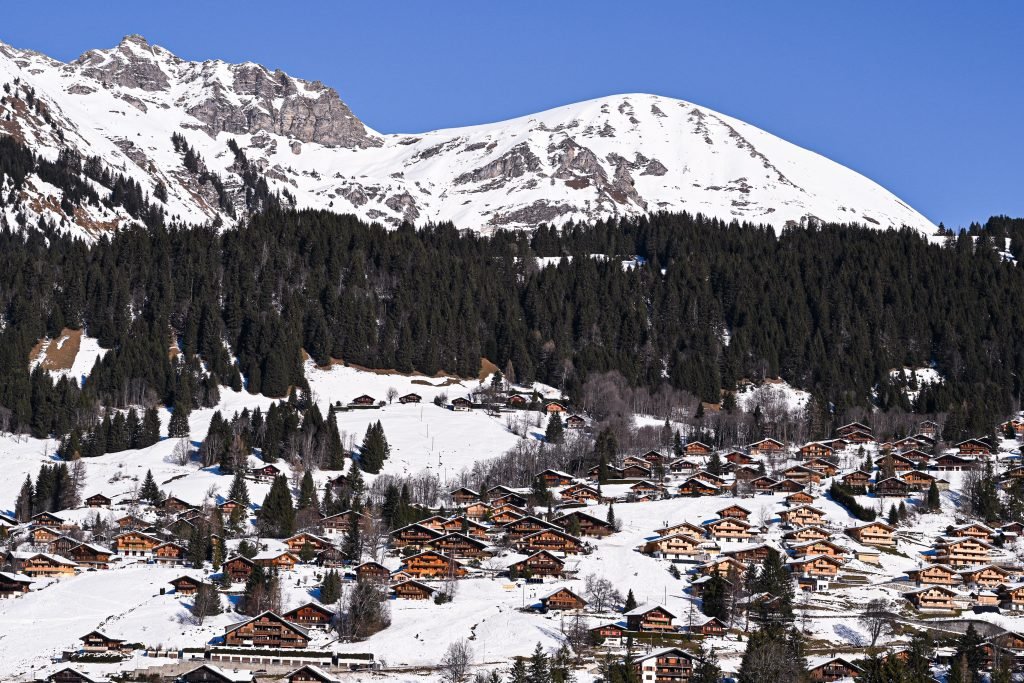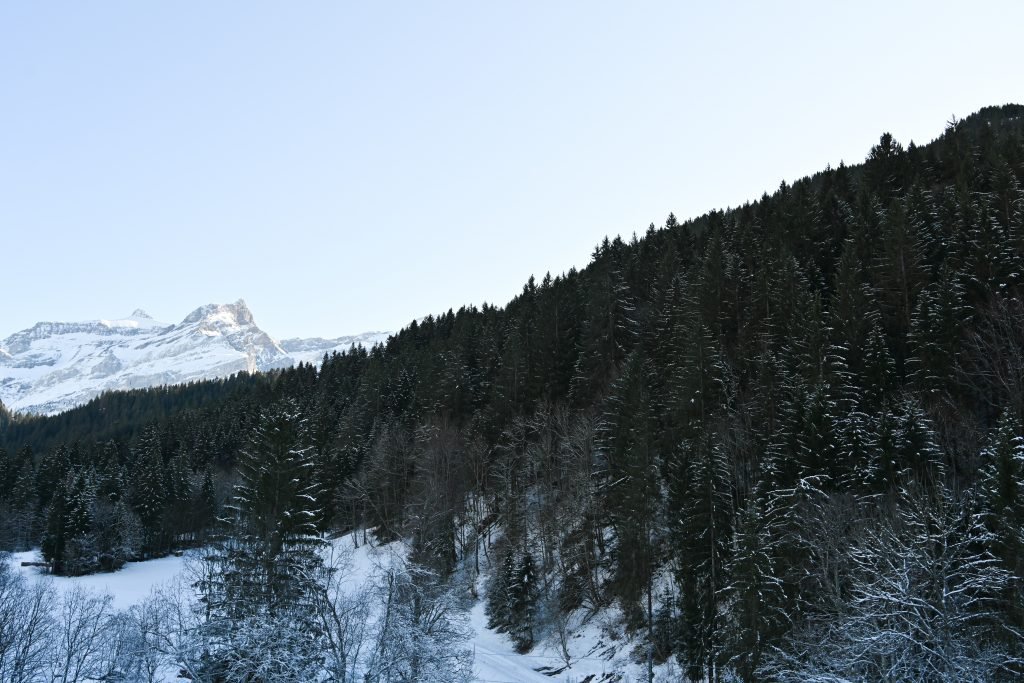 SLEDGE VERSUS SLED
Today, we are tackling the longest luge track in Switzerland, which is in Les Diablerets, high in the Vaudois Alps. At 7 kilometers long, it's daunting to say the least. To start, we pick up a "Davos" luge, otherwise known in Switzerland as a "sledge". We learn that it's different than a sled because it sits off the ground and has a metal runner to make it go faster.
While traveling the world, we simply aren't able to travel with all the specialty gear and goodies that we might if we had a stationary home, and coming exclusively on a trip for this experience. This means we have about three layers of clothes on and are utterly unprepared for the cold, wet, snow. The kids don't mind a bit, they just want to hurdle down the mountain at breakneck speeds. I mean really, what child wouldn't?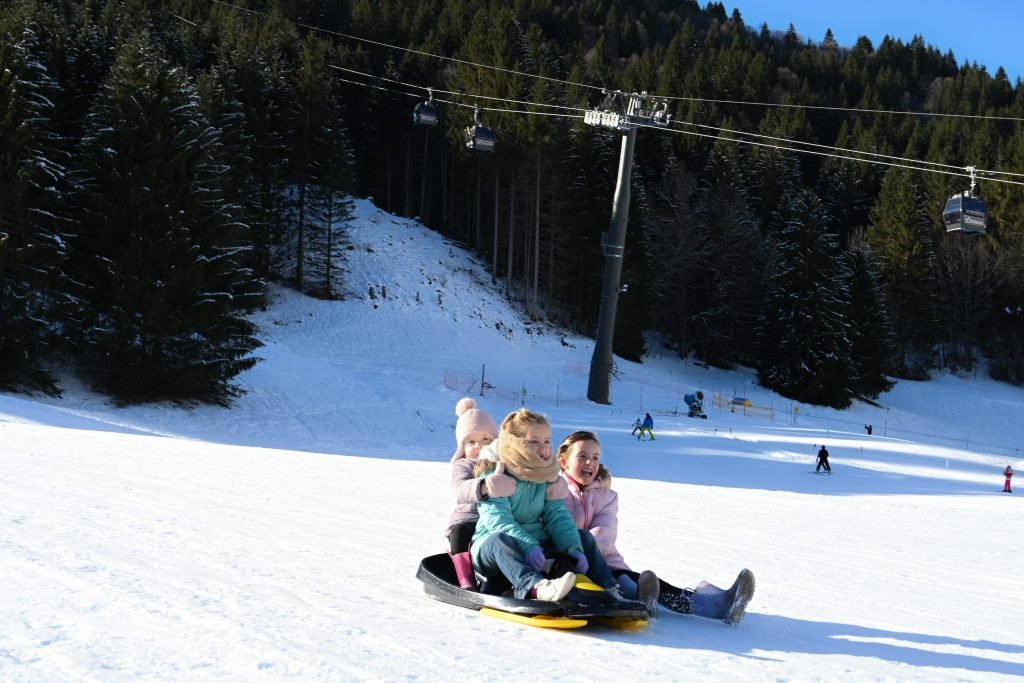 CABLE CAR TO THE TOP
The plan is for each child to get a turn down the luge track with mom or dad, sharing a single sledge. We board the Diablerets Express cablecar with our sledge, alongside the skiers. They are decked from head to toe in waterproof, warm, snow-ready gear. I look down at our jeans and rainboots, and gulp. Here we go. Hope we stay warm enough.
Peyton, our three-year-old, is on cloud nine. She repeats over and over again as we ride the cable car, "I'm in Switzerland. Switz.Er.Land. I'm sledging in Swit…zer…land." She rolls it off her tongue like a bouncy ball, grinning ear to ear, delighted by the fun words.
GATHERING COURAGE
The village looks like a toy set down below, and the Alps seem to grow larger as we climb higher in the cablecar. Once we get to the top, we eye the start of the sledging track, and it is high and long, and parts of it appear very, very steep. I'm about to put myself and my kid on this sledge and hurdle down this track with no brakes, trusting that we won't go flying over the edge of the mountain? Oh wow.
I gather my strength and snap a few photos, stalling for courage while I take in the incredible views. This luge claims to meet the highest safety standards (let's hope that's true!), and I see that it's separate from the ski slopes to avoid any crossover, which makes me feel a bit better.
OFF IN TRACK
I settle Peyton in front of me, my legs around hers and my hands holding tight to the steering strap. She's all giggles and grins at this point, and just wants to GO! With no instruction as to safety or steering or anything else, we are free to just take off when we feel like it. And so we do. Sledgers of all ages and sizes are whizzing past us in no time, and little by little, I teach myself how to steer the apparatus, pulling hard to the left or right, much like one would on the reins of a horse.
It's beyond exhilarating, and I quickly decide that it's even more fun than skiing! I love having my baby snuggled close in front of me, sharing the moments with her, protecting her, directing her attention to the animal tracks in the pristine snow and the soaring mountain peeks draped in their glistening glory. She's listening, and also singing, "Let it go!" from Frozen at the top of her lungs as we whip around the switchbacks, gathering speed, our toes turning to ice. I'm utterly delighted, giggling like a schoolgirl, enraptured by the moment. If there's one thing I love, it's moving at a fast speed.
By the time we reach the bottom of the track, a good 40 minutes later, we are achingly cold, yet deliciously satisfied with our long run down the Swiss Alps. Peyton can barely walk or talk, as she's half-frozen into a popsicle. I quickly get her into a warm car, change her into dry clothes, and wrap her up in cozy blanket. Her dad brings her some hot cocoa to thaw out her insides. Dry and warm, she's laughing again in just a few short minutes. "I just went SLEDGING in SWITZERLAND!!!" she exclaims, to no one in particular.
I gather her in my arms and whisper a little something in her ear, "I'll never forget doing this with you, sweetie. Thank you for sharing it with me." She hugs me back–a really tight, joy-filled hug–and I feel warm again (finally) from my head to my toes. We might not have been prepared for this snowy adventure, but I'm glad we did it.
It was worth it. WAY, WAY worth it.