by Janelle Schroy, Travel Writer and Producer of Adventure Family Journal
The day dawns clear and crisp, a midst hanging over the Mediterranean Sea, overlapping in myriad hues of blues and greens. It's entrancing – serene, calm. I tiptoe onto the balcony looking overlooking the coast, breathing in the morning air and willing myself to stay calm, fending off the rising tension in my soul. But here on the coast of Montenegro, it couldn't be more beautiful.
And yet. It's Day 40 of lockdown. Day 40 of living mostly in the great indoors. Day 40 of endless hours of keeping four kids occupied in a small space that is not our own. As a traveling family, "home" is wherever we find ourselves on the planet. I sip my steaming mug of peppermint tea, my heart feeling rather anxious. Here goes another day. I sigh.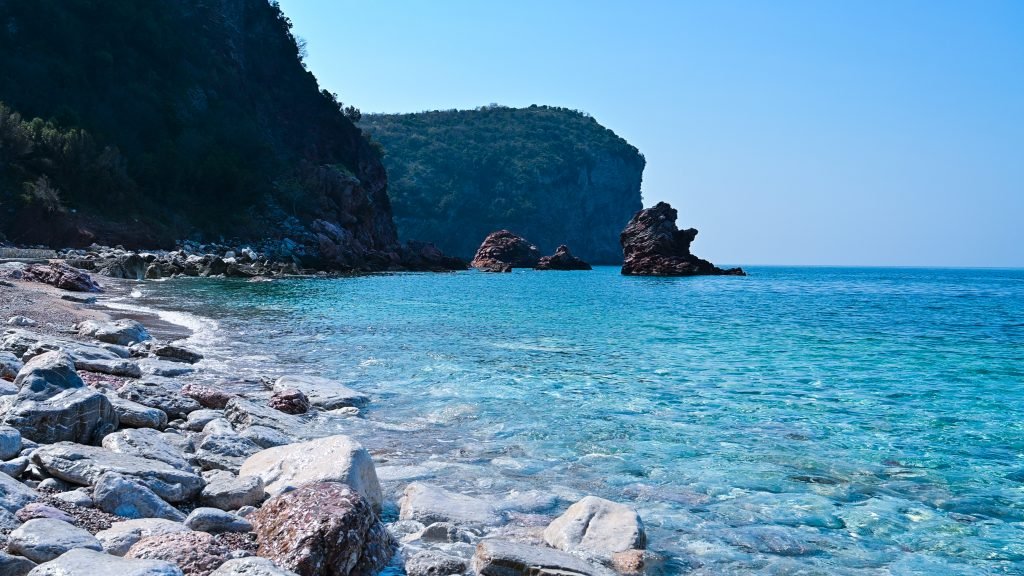 "Mommy?" I hear a quiet, sleepy voice behind me, My tiny blond-headed dreamer is awake. At three years old, she's utterly adorable from head to toe. Her arms wrap around my legs, and she waits. She knows I'm thinking, gathering courage for the day ahead.
STARTING WITH MEDITATION
Later, my four girls finish their breakfast and flow quietly into the next phase of our daily rhythm. We call it quiet time.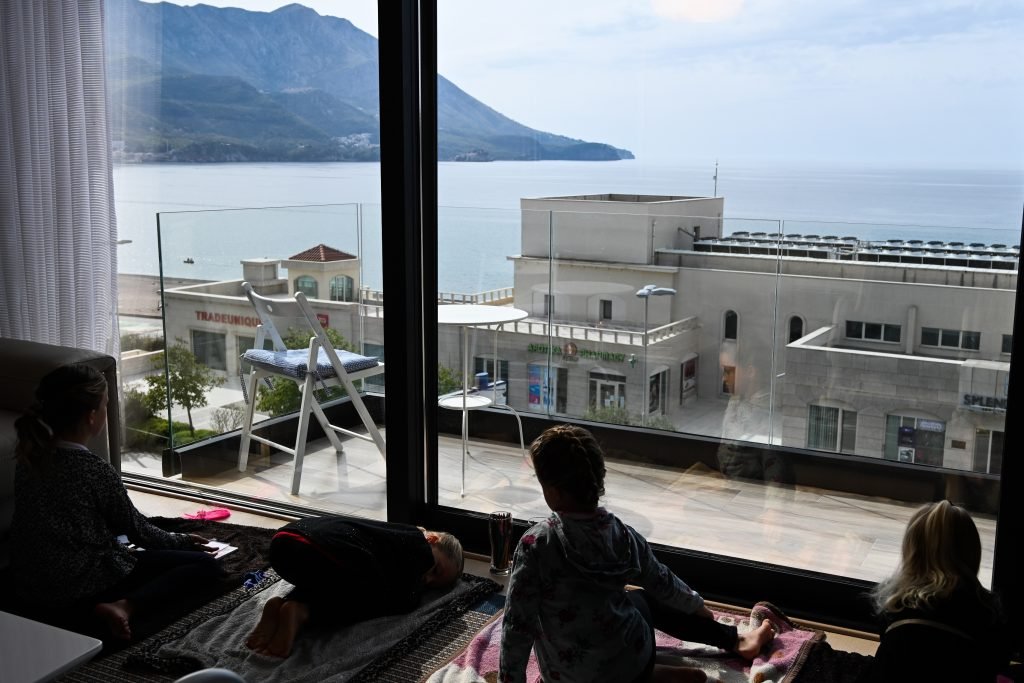 Each child retrieves her "magic carpet", paper and coloring things. The magic carpets is a blanket which "magically" defines each person's place for fifteen minutes. I turn on some instrumental music and a sweet melody fills their air. Facing the windows overlooking the Adriatic Sea, each girl finds her own sense of calm. For twenty minutes we are all quiet, the girls coloring, resting or stretching, listening to gentle music. They are becoming aware of the state of their hearts, checking in with their emotions, making mental decisions about how they want to engage with others throughout the day. I sit nearby with my coffee doing the same.
I watch the girls, each quietly meditating in their own worlds. I look out over the sea in the direction of Italy, considering the headlines I read last night "24,268 died in Italy of coronavirus." My tears are hot in my eyes, challenging my calm as I mull over a quote I have always loved from philosopher/theologian Henry Nowen, which says,
"Our life is a short time in expectation, a time in which sadness and joy kiss each other at every moment. There is a quality of sadness that fills all the moments of our life. It seems that there is no such thing as a clear-cut pure joy, but that even in the happiest moments of our existence, we sense a tinge of sadness. In every job well done, we are aware of our limitations. In every success, there is a fear of jealousy. Behind every smile, there is a tear. In every embrace, there is loneliness. In every friendship, distance. And in all forms of light, there is knowledge of surrounding darkness. But this intimate experience in which every bit of life is touched by a bit of death can point us beyond the limits of our existence. It can do so by making us look forward in expectation to the day when our hearts will be filled with perfect joy, a joy that no one shall take away from us."
As we finish our quiet time, I feel calmer now. I reorder my mind, thinking…
Day 40 of Lockdown. Day 40 of learning to still our busy souls. Day 40 of waiting, holding space for ourselves and for each other. Day 40 of caring for our mental, emotional and spiritual inner beings.
CHUNK #1: MORNING STUDIES
After getting dressed and ready for the day, we finish some "good habits" (others might call them chores). The girls check their notebooks for their list of what they can choose to do next. They have each written a list of about 25 things they can choose to do throughout the day. We like to "chunk" the day into five parts, making it easier to tackle a long day. We are full-time travelers, world explorers. Being indoors 90% of the time is very new for us. It feels like an ill-fitting garment, and in it, we feel awkward and clunky.
My nine-year-old, Reagan, picks up her violin and starts playing her repertoire for the month, and then begins an art project. One of her sweet melodies calms my inner being. She's playing "Pure Imagination" from Josh Groban, and I hum along. This song feels just so ESSENTIAL right now in the time of being indoors for weeks on end with little to do but use our imaginations as we play and read and just, BE.
My seven-year-old, Madison, chooses to settle on the sofa with her iPad for French lessons before practicing her cursive. She's got impeccable handwriting and a passion for languages, and she wants to be an explorer with National Geographic one day.
My six-year-old, Devyn, decides she wants to engage with some social studies activities before she tries her hand at her latest science experiment – baking Banana Crumb muffins for her sisters. "It's all about the crunchy crumble on top," she tells me.
I smile. The truth is, I don't care if they do even one minute of normal academic type of work during this time of coronavirus. It's completely superfluous to the most important learning that's going on in 2020.
Day 40 of Lockdown. Day 40 of practicing self-direction. Day 40 of learning to wisely steward long days indoors.
CHUNK #2: OUTDOOR ADVENTURE
As we head down to the beach for a few hours in nature, I'm struck again by the beauty of this place. My husband grins as we walk down to our favorite beach, commenting, "Not a bad place to be 'stuck' in this time of coronavirus." I can't argue with that.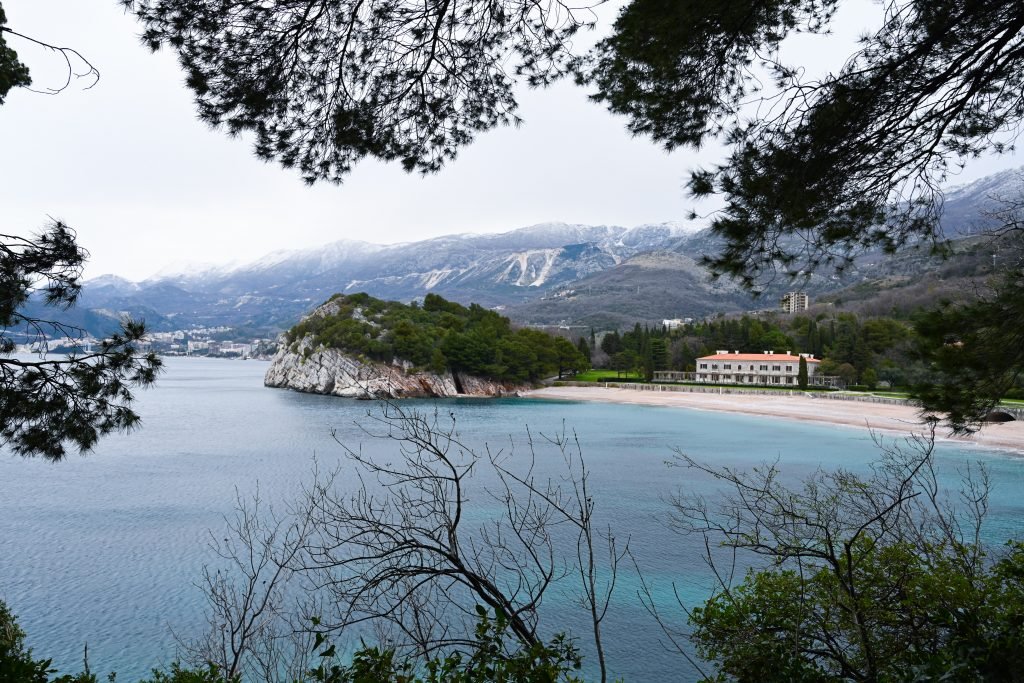 We kick around a ball with our kids and engage with them in exploring the rock formations and building sandcastles. There's not another soul on the beach today, and it all feels a bit apocalyptic. The curfew to stay indoors for all begins at 1 pm, so we've got only a few hours to be outside before it's indoors only.
Day 40 of Lockdown. Day 40 of connecting in nature. Day 40 of appreciating geology and truly listening to the waves.
CHUNK #3: AFTERNOON REST & STUDIES
After the beach and some lunch, I turn on some calming jazz music and settle down to work for two hours while Reagan, Madison, and Devyn each choose to rest and study by laying down and doing math and reading lessons on their iPads. Peyton plays with kinetic sand, playdough, and toys near me. I edit films, write a blog, work on a new feature for an app I founded, set up an interview for an article I'm writing. Daddy's in another room working too now, and we won't see him until after midnight when his workday ends.
As I look around at the peaceful scene, I question why I felt so anxious this morning. It's a global pandemic, but we are safe, we are healthy, and the kids are taking this all in stride. There is so much to be thankful for.
Day 40 of Lockdown. Day 40 of health, work I love, and kids who are more passionate about learning every day.
CHUNK #4: GIRLS' BOOK CLUB
Later, my four girls and I do some yoga together, stretching our bodies and relieving stress. Then we ease into an hour of reading, each person reading books of their choosing. Even at three years old, our little Peyton is a whiz getting around her digital reading library, listening to Read-to-Me books one after the other. For an hour, I put work aside and simply read with and beside my girls, cuddling up cozily on the sofa, the five of us together in a funny tangle of limbs and blankets.
By the end of the hour, we are all bursting to share the stories we've immersed ourselves in, so I make a round of drinks – chocolate almond milk for the kids and coffee for me. It's sustenance for our much-loved daily "Girls' Book Club." Each of us, in turn, share with the group what book(s) we've been reading, giving our recommendation or disapproval.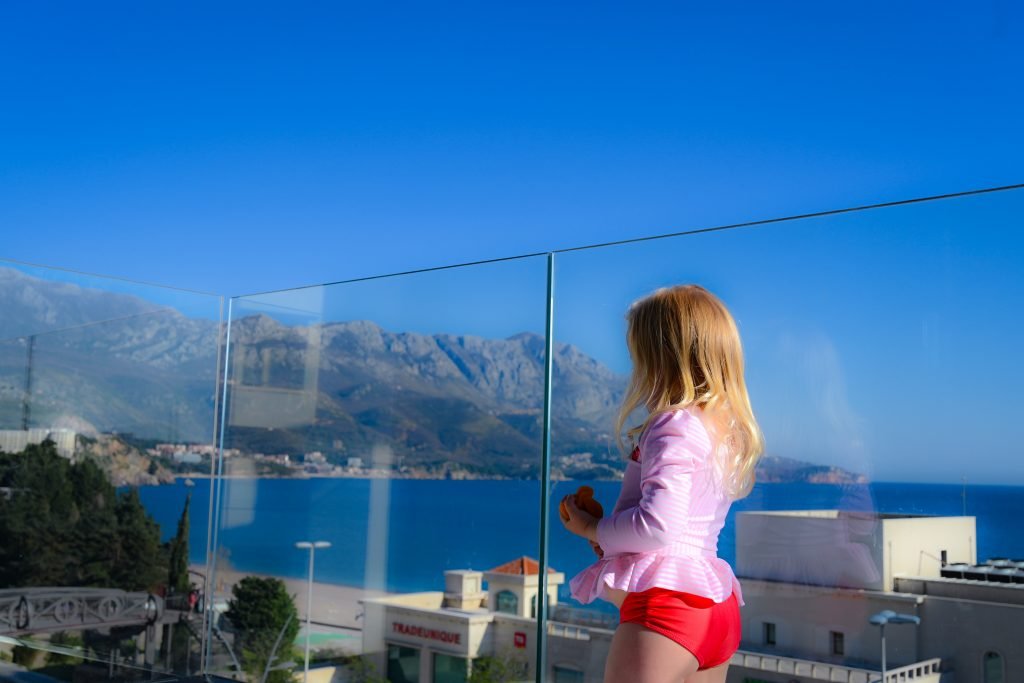 As Peyton confidently speaks in front of our community of book lovers, she shares her pre-school review of the classic book, Brown Bear, Brown Bear, What Do You See. "I read this book when I was in high school and now too. It's a good book," she says, "It has great pictures. I like animals. I think you should all read it."
I can't help but hold back a giggle. She's THREE!! High school?!
Day 40 of Lockdown. Day 40 of burying ourselves in good books. Day 40 of sharing stories and opinions, asking good questions and fostering a love of reading.
CHUNK #5: FRIENDS & FUN
The late afternoon and early evening hours mean that friends and family halfway across the world are awake, so Zoom calls begin, kicking off playtime together with friends. As the kids fluidly navigate their social calendar (both with each other, and with others across the world), I quietly keep count of the various cities and countries represented by those they are interacting with. Today it's four countries and nine cities.
With friends, they are making forts, having dance parties and tea parties, crafting paper airplanes, and enjoying sing-alongs. The girls are finding their way in this new normal of social distancing, which ironically, has ALSO become social connecting. I would have never thought my kids would have words like "lockdown," "curfew," "pandemic," and "medical mask," as an important words in their childhood.
Alas, all is not lost.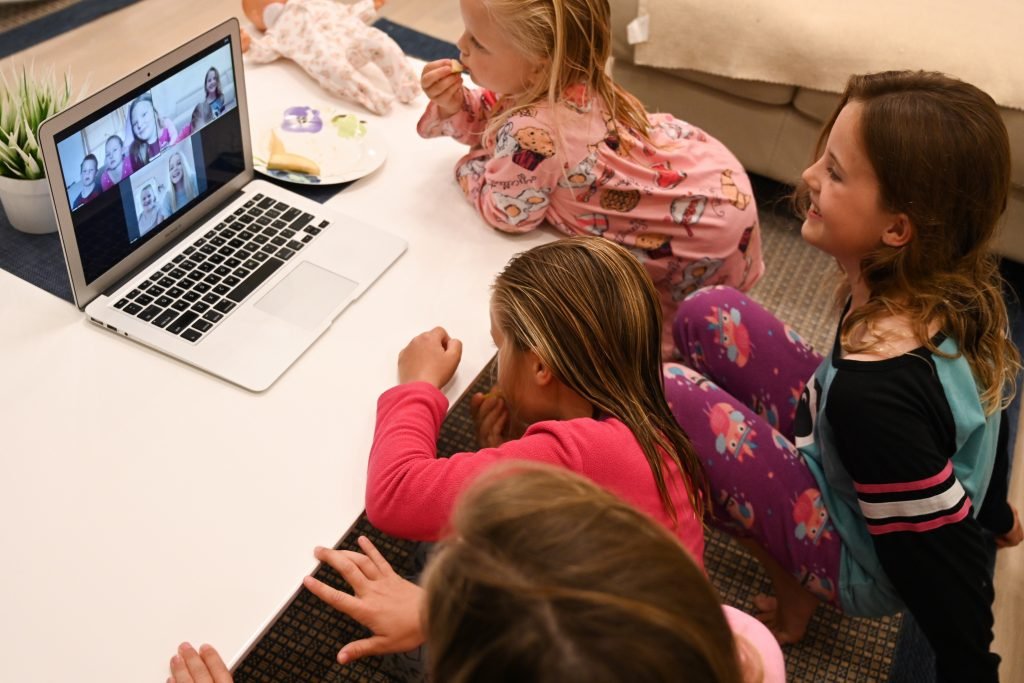 Day 40 of Lockdown. Day 40 of playtime and joy. Day 40 of reconnecting with cherished relationships around the globe. Day 40 of learning in new ways what it means to be a friend.
CLOSING OF THE DAY
The sun seems to curtsy as it dips below the horizon, an elegant farewell after a beautiful day. I take my coffee back to the balcony after tucking my four little ladies into bed. I breathe deeply, stilling my heart again, checking my emotions.
As the world holds it's breath during this global pandemic, perspective is everything.
Day 40 of Lockdown. We aren't adventuring to far off lands right now. We aren't exploring museums and monuments. We aren't feeling the elation of all things new, day after day. But even so… we find JOY. For all that the Day 40 has not been, I am letting it go. For all that it has been, I am choosing to be grateful.