Wispy curls of fog frame the broad, orange-red pinnacle as it rises, clean and clear, above the choppy waves. The Golden Gate bridge seems to smile sadly. I imagine it is nodding slowly, as one who is aged and wise, like one who has seen the years of history go by – and lived to tell the tale.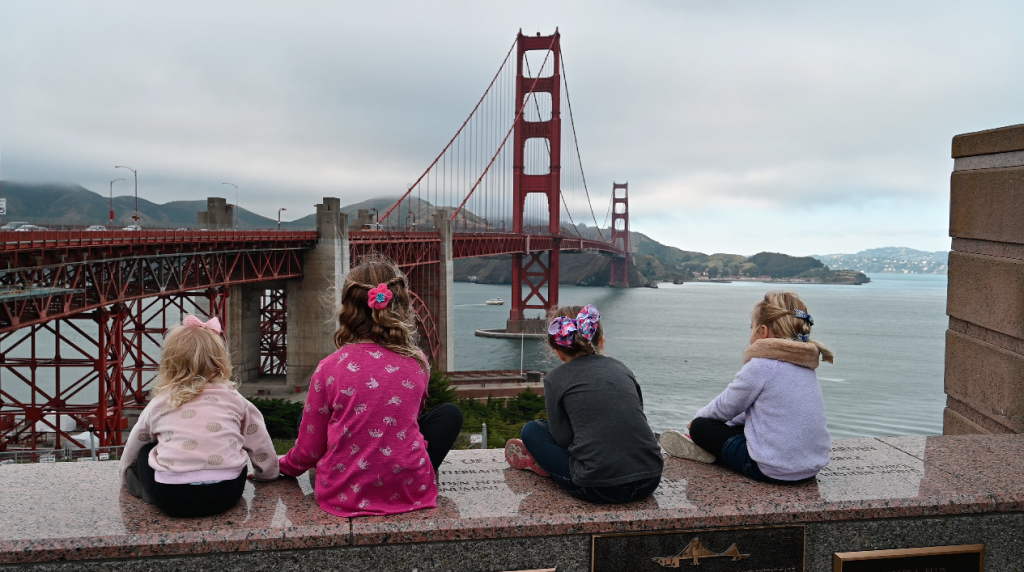 And here, on the water's edge we watch, in breathless anticipation, as the fog lifts further, slowly revealing the grandeur of this world landmark. The scent of chowder rises to meet the moment, filling our senses with the knowledge of just one thing: we are in San Francisco, and it's a place like no other on the planet.
For all of the countries and cities and places I've traveled, few rival this great city. Perhaps I left a piece of my heart here long ago, on this Fisherman's Warf where the fisherman's cast their lines and patiently await their catch. Here, where the buskers fill the air with their jazzy melodies. Here, where Ghirardelli's luxurious chocolate delights all who darken their door. Here, where the apple red cable cars dot the hills in their cling-clang climb.
How do I leaving a lasting impression of this place for my five year old aspiring chef, I think. How do I offer her the gift of San Francisco in a memory that belongs uniquely to her?
I smell it again.
Chowder.
If there's one food that reminds us of San Francisco, it's chowder. If there's one thing that tourists have on their "must-do" list to try when they come to this city, it's chowder. And most importantly, if there's one thing that locals consider an iconic food of San Francisco, it's chowder.
My daughter, Devyn, though five years old, is a bona fide "foodie" and aspiring chef, and she's currently traveling through 50 countries, cooking with a chef in each city as she learns to experience the world through local foods.
I quickly learn that every year, San Francisco restaurants battle it out to find out whose chowder is best of the Wharf in a festival called "Warf Fest". For three years in a row, the award has gone to Chef Erick.
That's the one! I think. Let's get Devyn cooking with him.
Chef Erick is the Executive Chef at the Blue Mermaid Restaurant in the historic Argonaut Hotel.Chef Erick oozes both personality and an unquenchable love for his work. When we arrive in the restaurant, Little Devyn is immediately swept up in his pleasantly infectious enthusiasm as she begins learning the art of creating this California Dungeness Crab and Corn Chowder she's heard so much about.
Together, Chef Erick and Chef Devyn work their way through the steps, adding ingredient by ingredient: stirring, waiting, laughing, stirring again, pouring, tasting. As Erick carefully explains the "why" behind each step, Devyn's knowledge grows, and her tastebuds tingle.
When the chowder is done, they plate and garnish it for our family of six to taste, and the manager of the restaurant comes to help carry the tray. We wait for them to arrive at our table, steeped in anticipation to taste this famous dish.
We light up in praises and delight as they deliver our bowls of chowder, and Devyn puffs her chest out in pride. Chef Erick chuckles in confidence, knowing full-well the unbeatable deliciousness that awaits us.
We taste. The flavors mingle together into an explosion of flavor. It's got some kick to it, and two of the kids slide their bowls to us after a few bites. They sip their drink, the chowder too spicy for them! My two year old, though, finishes every last bite. She's my spice lover, always has been.
We eat slowly, mesmerized by the moment, bursting with pride at what Devyn has learned to create alongside this awesome chef. She snuggles up close and says, "Mama? This is San Francisco, right? This hotel, this food, this smell. I'm gonna remember it forever. I love it here."
I smile as we leave, tummies full and hearts fuller. As we make our way toward the Golden Gate Bridge for an evening walk, I hear Tony Bennett's song, I Left My Heart in San Francisco, playing in my head:
"The loveliness of Paris seems somehow sadly grey
The glory that was Rome is of another day
I've been terribly alone, and forgotten in Manhattan
I'm going home to my city by the Bay
I left my heart in San Francisco
High on a hill, it calls to me
To be where little cable cars climb halfway to the stars
The morning fog may chill the air,
I don't care, My love waits there, in San Francisco
Above the blue and windy sea
When I come home to you, San Francisco
Your golden sun will shine for me."
WATCH THE FILM ABOUT THIS ADVENTURE HERE.