The temperature is below freezing but the fire warms my feet. I gaze at my daughter, snuggling under a blanket, entranced in her picture book. Beside me, a cat purrs and my older three girls chat as they put together a puzzle–a jumbo-sized map of Europe. My husband, Jedd, comes in from the cold carrying a big basket of wood, reinforcements for our family fire.
The winter weather proves just another reason to cuddle close by the fire. I offer Jedd a warm cup of coffee and a platter of freshly baked French Peppermint Cocoa Meringues. He grins. Anything sugary and sweet will get his attention, and I know it. Slowly, we settle on the sofa, admiring the "puzzle museum" our kids seem to be creating on the antique hardwood floor of this French home, built originally in 1717. We pause to take in the moment.
Christmas was earlier this week, and it looked a little different this year. Instead of Christmas parties and relatives' gifts to buy, we find ourselves in the smallest village in France, housesitting for a family while they travel. For a week, we are caring for their home, two dogs and two cats.
Truthfully, there's nowhere else we'd rather be. We've been traveling for seven months non-stop, and we have explored seven countries and 28 cities together as a family so far. We are just getting started with two-plus years of non-stop traveling. At this point in the journey, our four girls–ages 3, 5, 7, and 9 years old–are begging to travel FOREVER. We realize that they might not feel this way for too long; so we enjoy it while we can.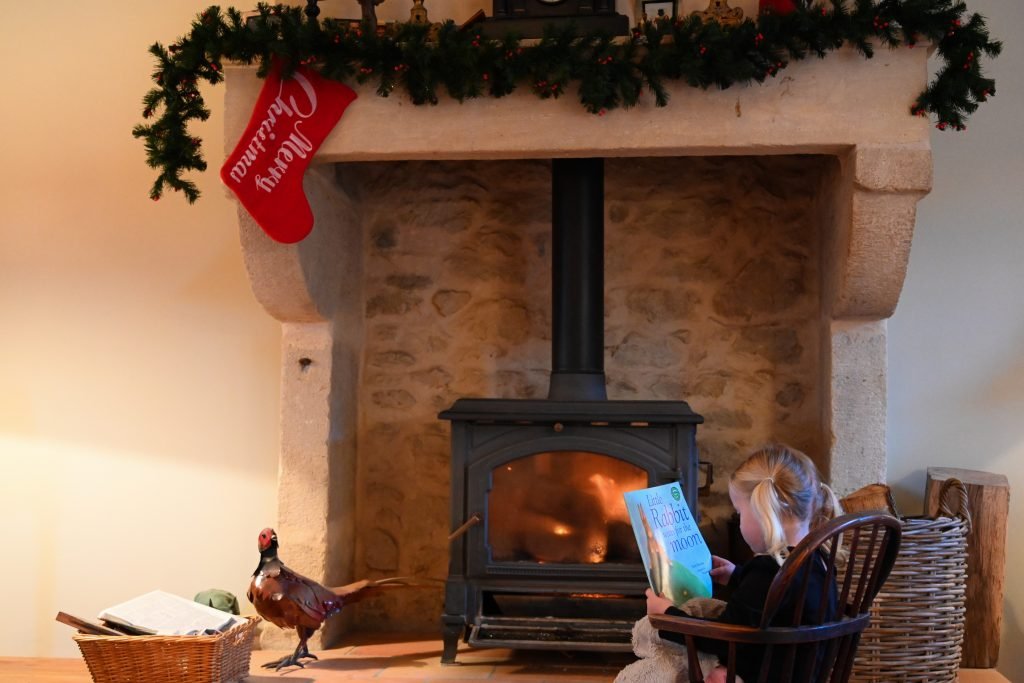 CITY OF BORDEAUX
Last week, when we drove down from Paris, we first explored Bordeaux, a thriving port city on the coast of France, situated neatly along the Garonne River. Bordeaux is a famous wine-growing region, known mostly for red wines, claret being the local favorite.
We loved the vibe of this stunner of a city, with it's immaculately preserved old buildings and festive Christmas markets. The cafes buzz with people enjoying local wines and warm food. The city seems to sparkle with Christmas cheer.
THE SMALLEST VILLAGE IN FRANCE
About an hour's drive inland from Bordeaux is where we find our home for the holidays. The experience is a housesit, one of the hats we wear as travelers. The home is next to Castelmoreon-D'Albret, the smallest commune (village) in France.
Although Castelmoreon-D'Albret has only 78 inhabitants, this storybook village has another claim to fame too. Each Christmas, all of the homes in the village put their own unique nativity scene in their window and light them up every night. Called"crèches", some them withhold putting the baby Jesus in his manger until Christmas morning. It's is all part of the advent season, where followers of the Christian tradition wait and watch for the coming of the Messiah (baby Jesus).
Earlier this evening, as the day turned to dusk and the sun slipped beneath the horizon, we walked the village, admiring each and every crèche, noting their differences, discussing the story of the nativity from long ago. I played Christmas music softly on my phone in my pocket, so we could listen as we walked. The effect, together with light rain, created a romance about the whole thing that kept us all in a state of bliss for nearly two hours as we walked, delirious from the fantasy of it all.
The village dates back before Medieval times, and carries a fascinating history of empires and wars, kings, queens, and family betrayals. We are determined to soak it all up. Our five-year-old, Devyn, is a true dog lover, and walking the dogs through this scene is pretty much her ultimate idea of fun.
OUR HOME FOR CHRISTMAS
I delighted in keeping Christmas simple this year. That meant a one-dish pasta meal for the Christmas Eve dinner, Santa Pancakes and a breakfast bake for Christmas morning, and an easy chicken roast and two sides for Christmas dinner. The real fun of it for us, at this stage of life, is the table setting and decorating anyway. This is due to my passion for hospitality coupled with four picky little girls who don't care about fancy food, but who love to feel like princesses in a castle (surprise, surprise).
Madison, my seven-year-old, volunteered to set the table with me, making fine use of the estate homes' prettiest holiday places settings, cutlery, glassware, and candelabras. If only these walls could talk. As we set the table, Madison and I imagined the Christmases this house has seen for the past 302 years. We created tales about the romances and heartbreaks it has seen, the tears shed, the hugs shared.
Later, the girls donned their velvet evening dresses and we lit the candles, the scene set as the moon rose over the vineyard outside.
A traditional French Christmas Eve involves going to midnight mass, followed by a long and involved feast which includes an galette des rois, a special cake which celebrates the day the Three Kings (les rois) visited baby Jesus. Baked inside the cake is a small charm or bean. Whoever gets the charm in their cake, gets the crown to wear as the king or queen of the night, remembering the Three Kings from the Christmas story. We learned more about the King Cake and its history through the Many Eats Blog, and what a history it is!
We thought this sounded like fun, and just had to try it. Our youngest, three-year-old Peyton, got the charm in her cake, and I'll always remember her face lighting up as she slid the gold foil crown on her head.
Christmas morning meant reading the Luke 2 Christmas story and opening a small handful of presents equalling no more than $20 per person, a token of the gift-giving tradition, really. We each only have one suitcase to travel with, so space is limited and we prioritize experiences over accumulating more stuff.
No matter. The girls were delighted to find that Santa and his reindeer seemed to have been building a French fortress in front of the Christmas tree. Must have been a long night delivering gifts and they needed some therapeutic playtime. Presents were followed by Christmas crackers (a tradition carried over from our ten years of living in South Africa), and each person had a chance to decorate their own Santa Pancakes: banana pancakes with fruit and whipped cream.
When we recovered from our sugar coma, we commenced the baking of the Bûche de Noël (chocolate cake rolled with whipped cream and cherries) with much pomp and fanfare, producing a rather messy yule log cake. But we enjoyed it just the same.
In France, the tradition of the Yule Log dates back to medieval times. Burning the Yule Log was one of the most widespread Christmas traditions in modern Europe, and we read about it beginning as a tradition around 1184. The Yule Log symbolizes the battle between good and evil and Christ's final and ultimate victory over sin.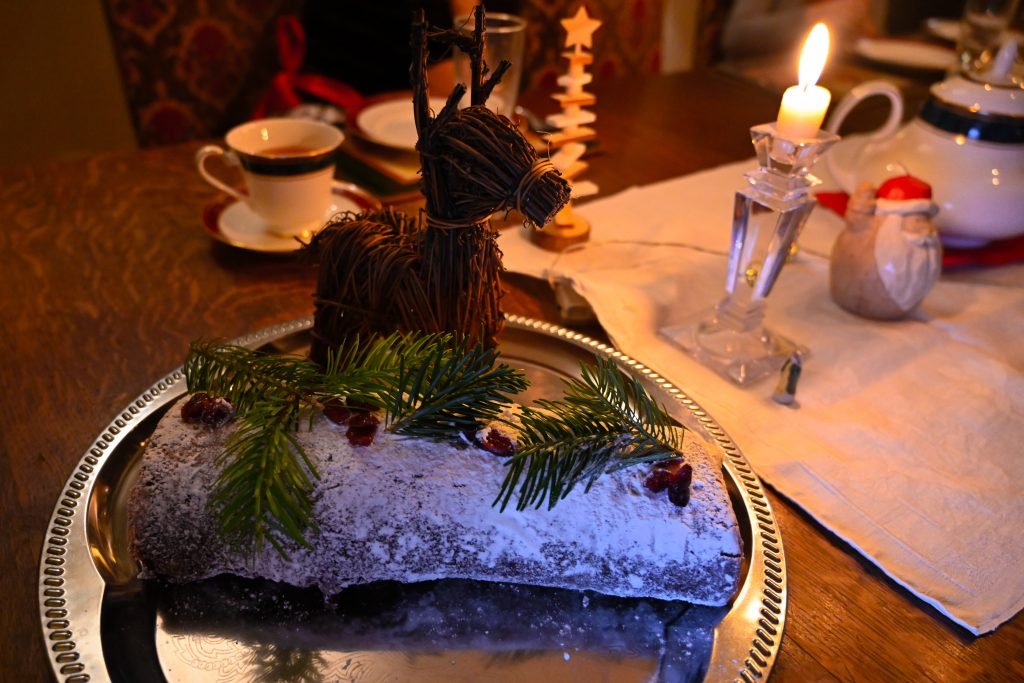 The traditional Yule Log was originally an entire tree cut down with great ceremony and brought to the family home. The largest end of the log would be placed into the fire hearth while the rest of the tree stuck out into the room. The log would actually be lit from the leftovers of the last year's log that had been kept and stored. The Yule Log was slowly burned throughout the twelve days leading up to Christmas.
As Christianity spread throughout France, the Yule Log tradition was rolled into the Christmas Eve festivities. The father or master of the house would sprinkle the log with mead, oil, salt or even wine. On Christmas morning, something green, such as a leafy branch was brought into the house before anything was taken out and a piece of the Yule Log was saved to light the next year's log.
We are in France! We had to have a Bûche de Noël.
SAINT-ÉMILION: WINEMAKING TOUR AT CHATEAU BERNATEAU
The day following Christmas was filled with exploring the wine-growing region, our favorite discovery being the town of Saint-Émilion. Saint-Émilion is one of the principal red wine areas of Bordeaux, and it is filled with hill after hill of breathtaking vineyards as far as the eye can see.
We were invited for a private wine tasting and tour at Chateau Bernateau, a wine estate in Saint-Émilion that has been making wine for eight generations. It's one of the few organic wineries in Southern France, and proud of it. Our tour guide, Audrey was amazing with the kids – explaining everything from the limestone and soil bedding to the annual cycle of the winemaking process. She also showed us the beautiful, state of the art wine cellar with it's five-star hotel for the wines to rest in while they are being aged.
While Jedd and I sipped on a range of wine varietals produced at the estate, the kids sipped on non-alcoholic grape juice produced from the kind of grapes that make grape brandy. They also played a game of "What scent is this?" from small jars containing the scents of items found in various wines (apricots, melons, etc.)
It's not new to the girls, this winery experience. They were born in South Africa's wine-growing region, and they have already explored over 100 wine estates in South Africa, learning about the process of making good wine. Visiting wine-growing regions – such as Napa Valley and Bordeaux – is something we love to do as we travel the world. (Our girls can already tell you a good bit about how to properly taste wine!)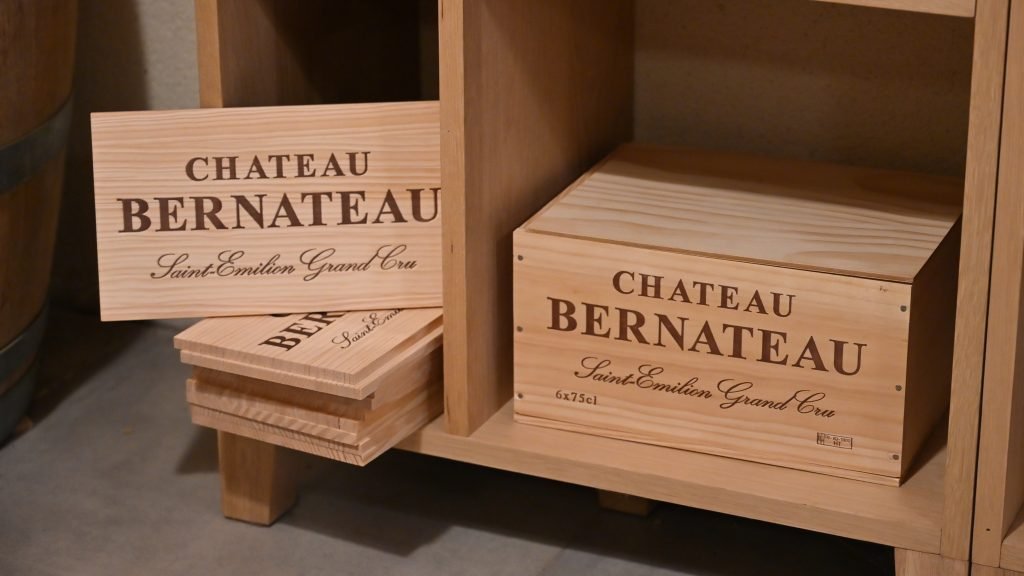 NIGHT WALK THROUGH A FRENCH VILLAGE
As an American, I find it hard to wrap my head fully around the history that has taken place in these European towns. To think that these kinds of cities have been through 13 centuries of history, well, it's almost unbelievable. We love our family night walks and we do many each week. Saint-Émilion feels ripped from the pages of a fairy tale such as "Beauty and the Beast."
It's a UNESCO World Heritage Site, and the Romanesque churches and ruins stretch all along steep and narrow streets surrounded by what appears to be an abandoned moat, and beyond it, vineyards upon vineyards upon vineyards. Apparently, the Romans planted vineyards in the area in the early 2nd century. Did you read that? 2nd century!!!
The cobblestone streets and soaring church steeples were enough to make a certain little nine-year-old artist of ours beg for canvas and paint. The boulangeries (bakeries) drew the attention of our five-year-old aspiring chef – AT EVERY CORNER.
GOODBYE TO CHRISTMAS, HELLO TO A NEW YEAR
What a week. My little cutie pie Peyton pulls me out of my reverie, climbing onto my lap, her cheeks toasty and warm from sitting by the fire. She asks for another French Peppermint Cocoa Meringue. I oblige. It's Christmas after all, and we are in the countryside of France. I think to myself, Well, Christmas 2019 is certainly one for the memory books. And the best is yet to come. Up next, Switzerland!
From all of us here in rural France, we are wishing you and yours a very Merry Christmas and the Happiest of New Years.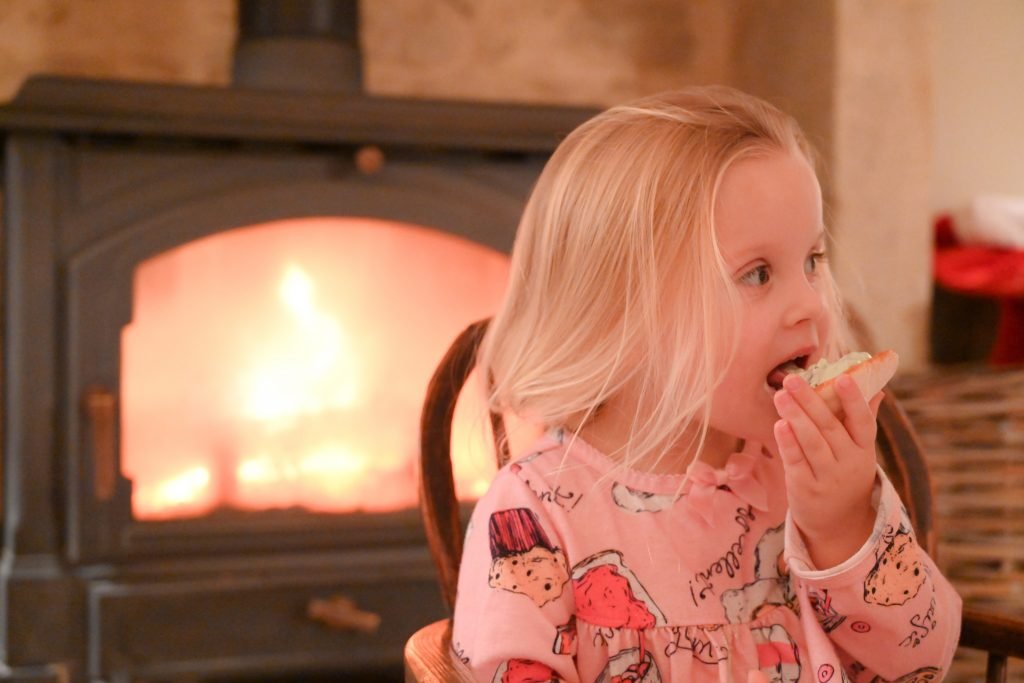 Follow ADVENTURE FAMILY JOURNAL ON YOUTUBE TO SEE MORE VIDEOS ABOUT TRAVELING WITH KIDS.