The vast road in Morocco stretches before us for hours – a black rocky desert of unforgiving terrain. Wild camels graze in the desert in search of tasty leaves for nourishment. One camel steps close to the road, savoring a rare olive branch in the middle of all this – nothingness.
He seems to smile at the four little girls in our car as we pass by.
Then suddenly, we see something in the distance. It looks like a mountain painted the color of a golden sunset, and it's rising above the black desert like a beacon of hope.
Is it? Could it be?
SAND!
Our children cry out with delight, "The Sahara!"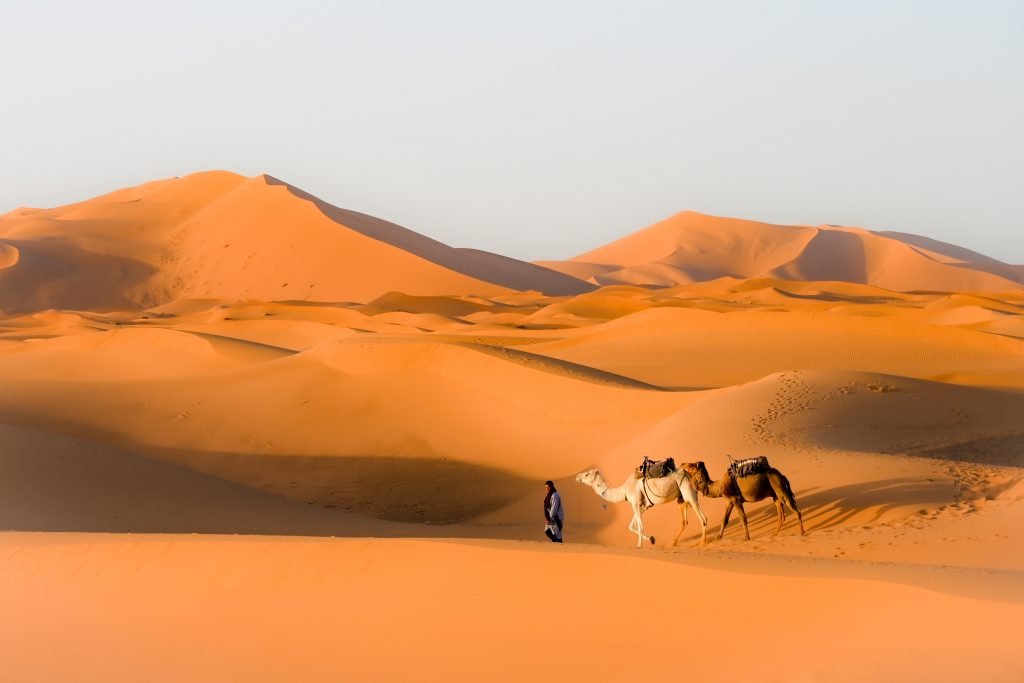 We've made it to the village of Merzouga on the westernmost edge of the sandy part of the Sahara desert at long last. We left the city of Marrakech in the small hours of the morning to drive nine hours across the beautiful Atlas Mountains, through scores of tiny Moroccan villages and alongside many ancient ruins, all to reach this incredible place.
The Sahara Desert.
We're are on a Journey Into Wild as a family this year, and we are traveling to 15 countries as we study the world's biomes and their current environmental challenges. We want to learn how we can become change agents in our world, and we're capturing it all in blogs, photos, and a 10 episode, full format TV show.
This month, we want to study the desert biome, and where better to study the desert than in the largest desert in the world? We want to learn from the one of the most prominent nomadic Saharan tribes, known to us as Berbers, though they call themselves the Amazigh.
We approach the edge of the great desert with awe – sand mountains shimmering and shifting in late afternoon sun.
INTO THE DESERT
We trade our wheels for Morocco's native dromedary camels – still the transportation mode of choice for those living in the desert. There are no roads here, only sand for as far as the eye can see. Giddy with expectation, we clamber atop these tall, friendly animals, their sheer bulk exuding steadfast confidence for the multi-hour journey to our desert camp.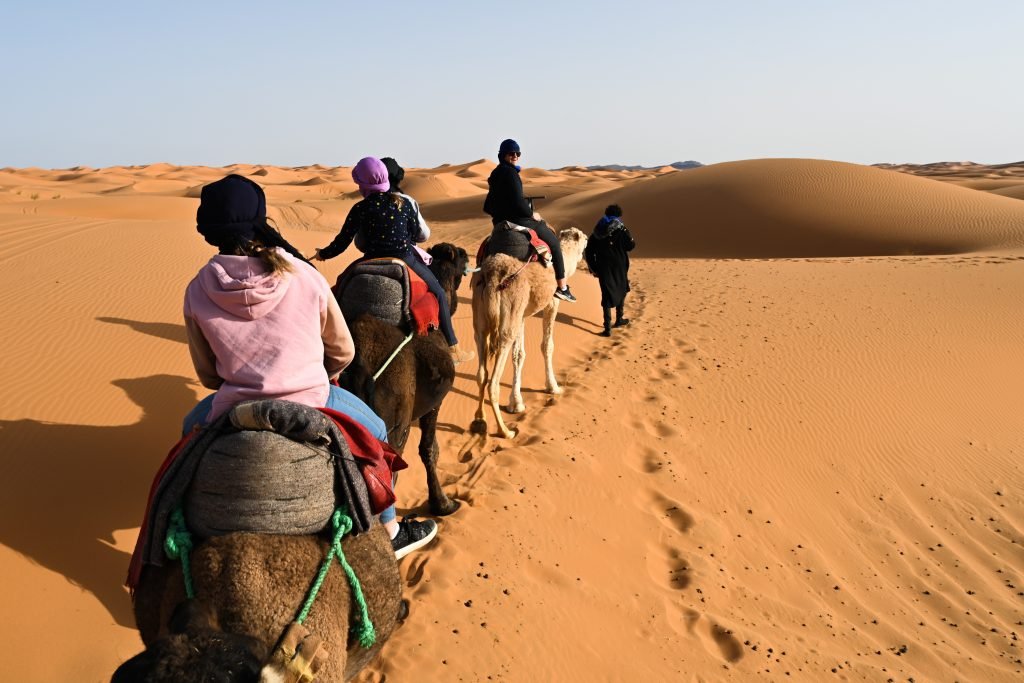 We cross one sand dune.
And another. And another.
Before long, we are surrounded by sand on all sides.
EMBRACING THE DESERT
After an hour of riding into the desert, our guide stops at the halfway point and slowly coaxes each camel down into a sitting position for a rest. Once safely on the ground, the children run up the highest sand dune, arms open and hearts full.
They are running, rolling, tumbling, laughing.
The sand is a sea of delight and they are fully present in it.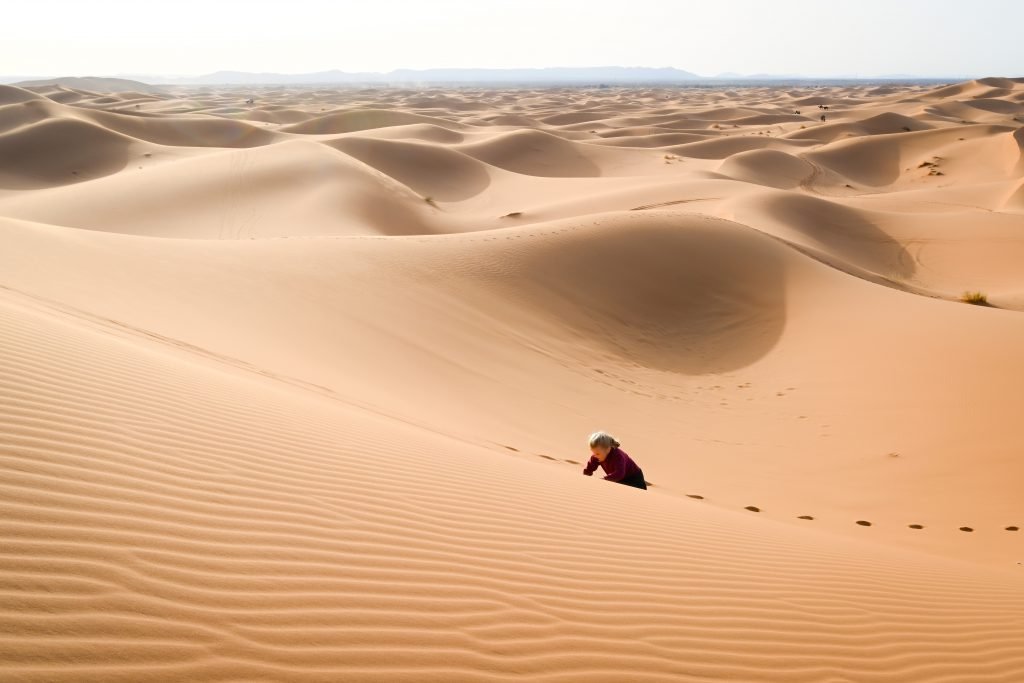 Soon the sun begins to set and we watch from the peak of a sand dune, cuddling close as a family. We grow quiet as the sun makes its graceful journey.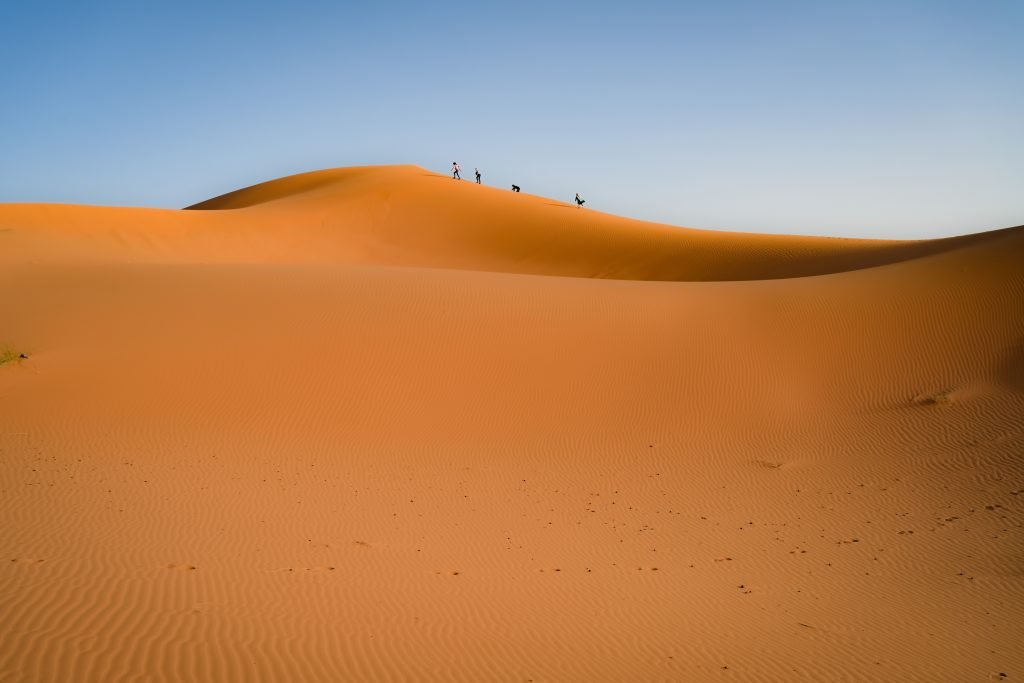 It's magic.
This is real.
This is wild.
This is learning in its fullest form – immersive.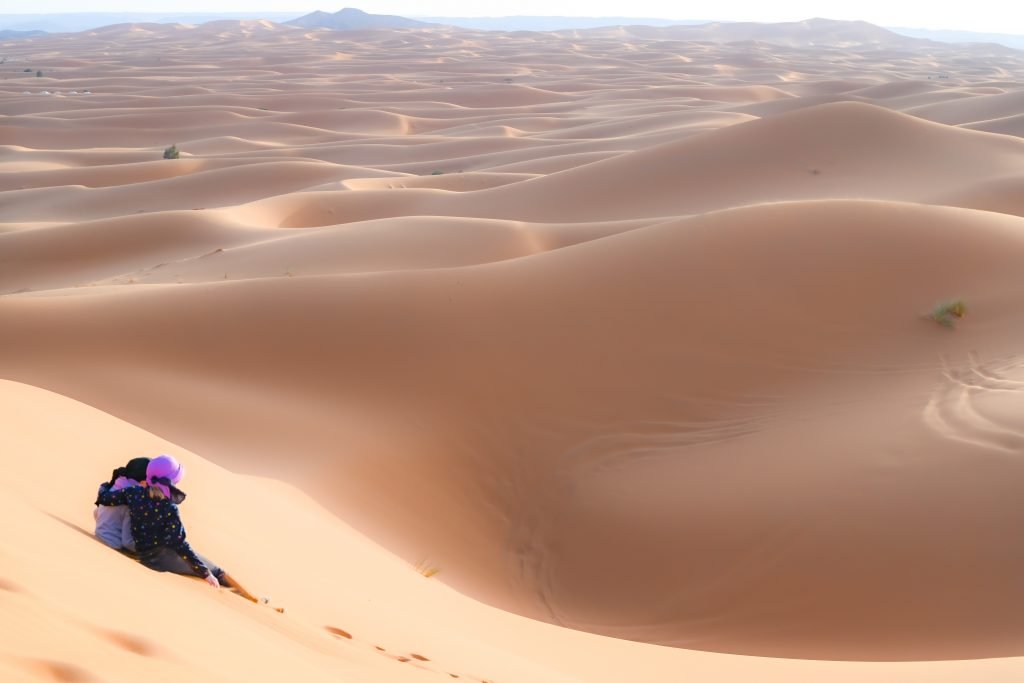 THE CAMP
An hour more of camel riding and we find ourselves with the first look at our new desert home – a pretty line of white tents surrounded by golden sand.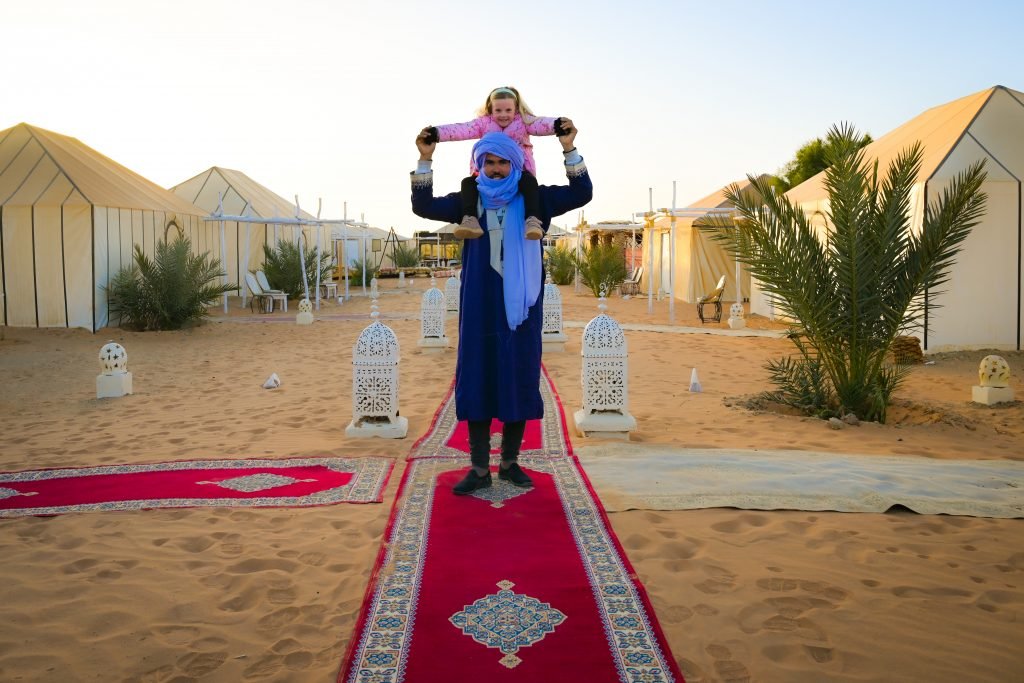 SETTLING IN
We are greeted by one of our Berber hosts, Abrahim, who is dressed in traditional garments including an elegant Berber head wrap.
"Welcome to the Sahara," Abrahim beams, "This is your desert home. Come, let me show you the camp!"
He asks the children their names, and then scoops little Peyton up onto his shoulders and smiles at the girls with a twinkle in his eye. "I have hot Moroccan mint tea for you in the dining tent. Yala!" he says. (Let's go!)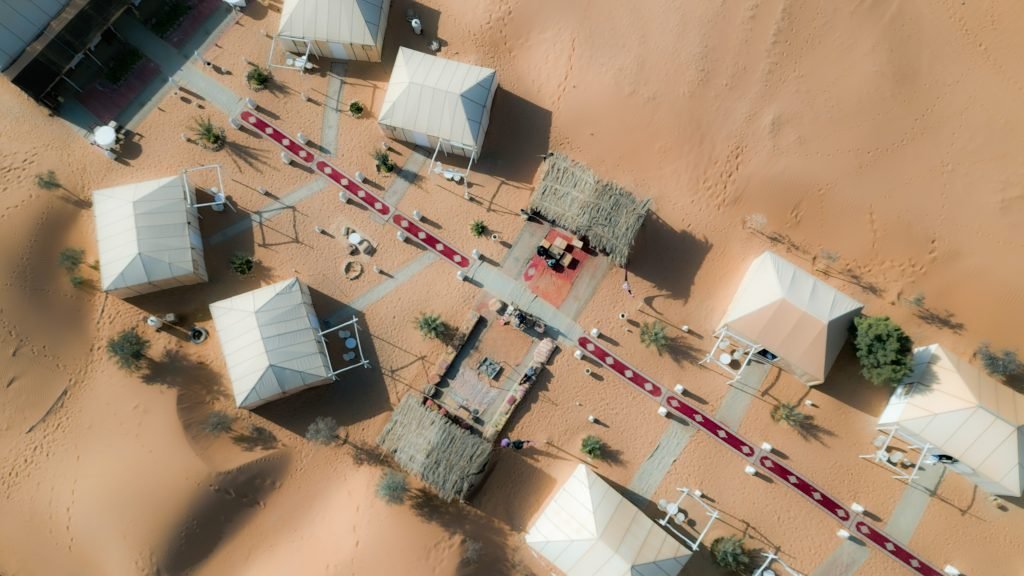 Our family tent is luxurious with a large queen-size bed for the parents and smallest child, and three single beds for the older girls. We have a nice bathroom and a private shower with hot water. I'm impressed. Moroccan rugs cover the floors and I spot an electric blanket on the bed. YES!
It's even more fun than I imagined it would be.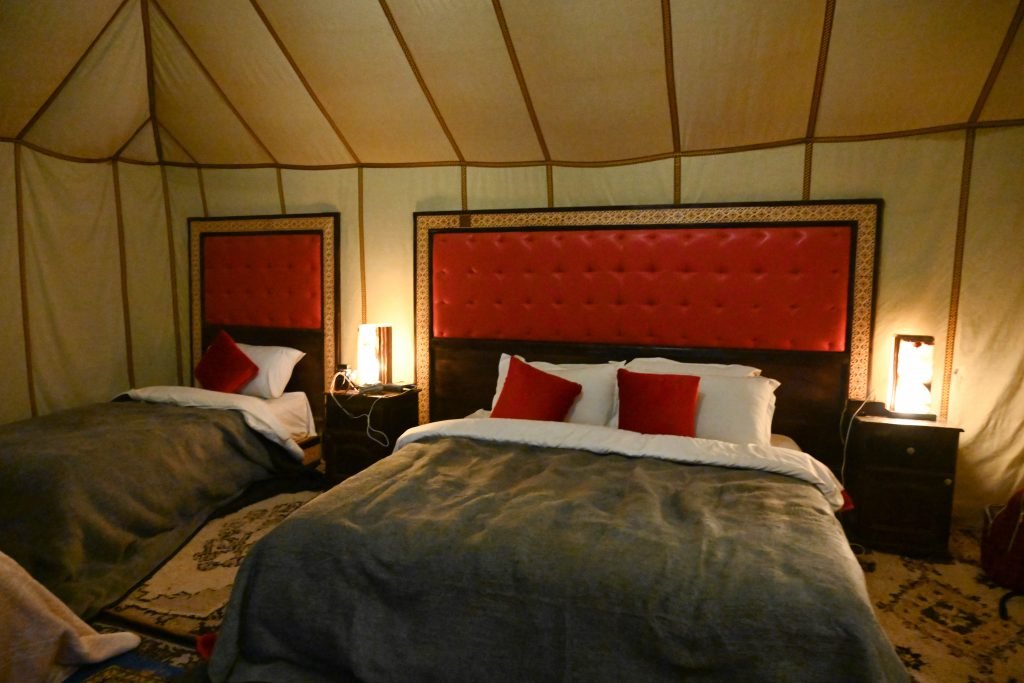 I watch the camels being walked to their resting place for the night as the sun says it's final goodbyes to a day well-lived. The fire is lit in the camp, and we sip warm tea as we explore our temporary desert home.
We are served a warm meal of hot bean soup and freshly made bread, a trio of traditional salads, and a chicken tagine. Our hosts complete the meal by offering a platter of fresh cut fruit and more Moroccan mint tea. We are satisfied and ready for a campfire, drumming, and stories with our Berber friends before settling into the warm bed on this cold winter night.
A NEW DAY
The next day, the sunrise is just after 8am, and we are ready for it, wrapped like locals in colorful Moroccan djellaba's (long robes worn over clothes for warmth). We stand on a sandy dune and drink in the beauty of a new day while experiencing the desert biome in all its glory.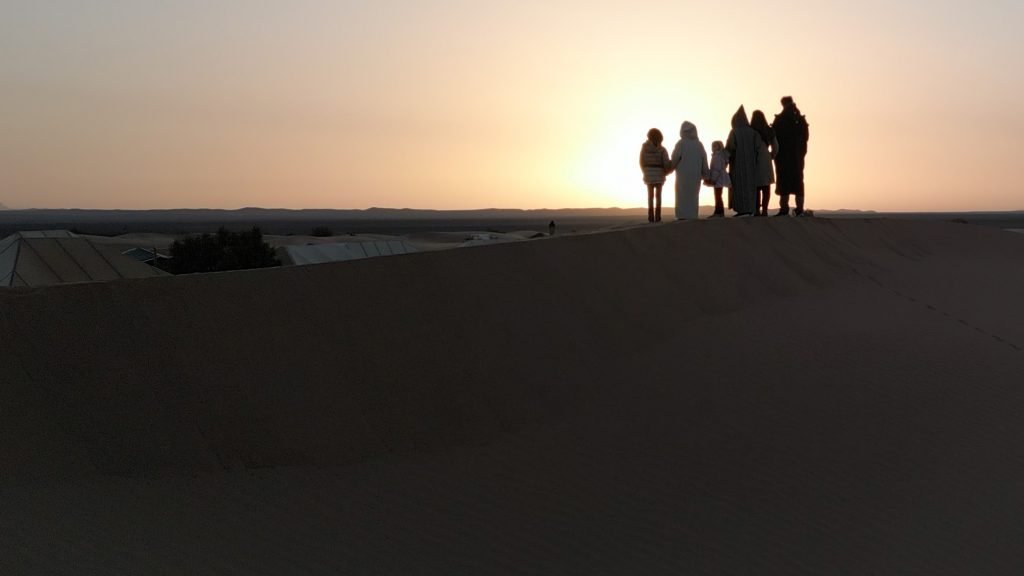 LEARNING TIME
After breakfast, the girls and I relax into our daily morning learning time. The girls have a set of fun activity pages we printed a few days day before from Teacher File Box.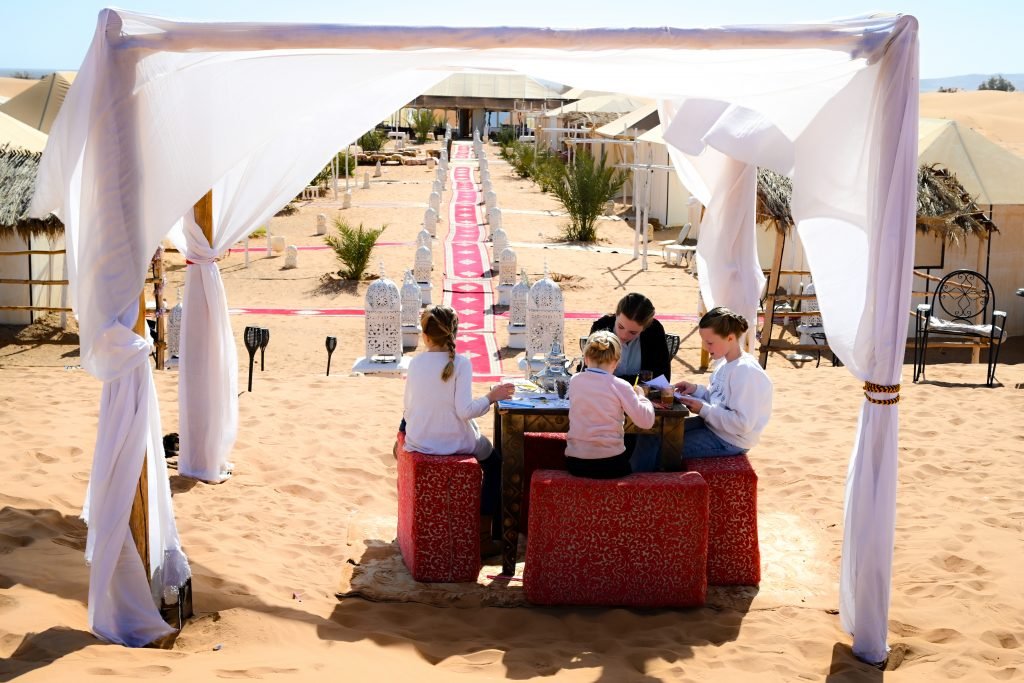 This is is one of our favorite learning tools because there are over 80,000 pages of printable activities which we have access to on demand anywhere in the world.
Since we can't carry books with us, much of our learning is on iPads. But the kids LOVE doing activity pages, reading, researching, and coloring, so Teacher File Box is a way we can have these tools at our fingertips without carrying books. We simply print exactly what we need at any given time. This year, we'll be in 15 countries, and in each of them, I'll be printing fun activity pages like this for our girls.
We are worldchoolers, which means the whole world is our classroom and everything in it is a learning opportunity.
So as we sit in the warm Sahara sun, the girls enjoy their activity pages. They are learning about Africa's geography, the Sahara Desert as a biome, the animals that live in the Sahara and how they have adapted to their extreme environment, Moroccan food and more.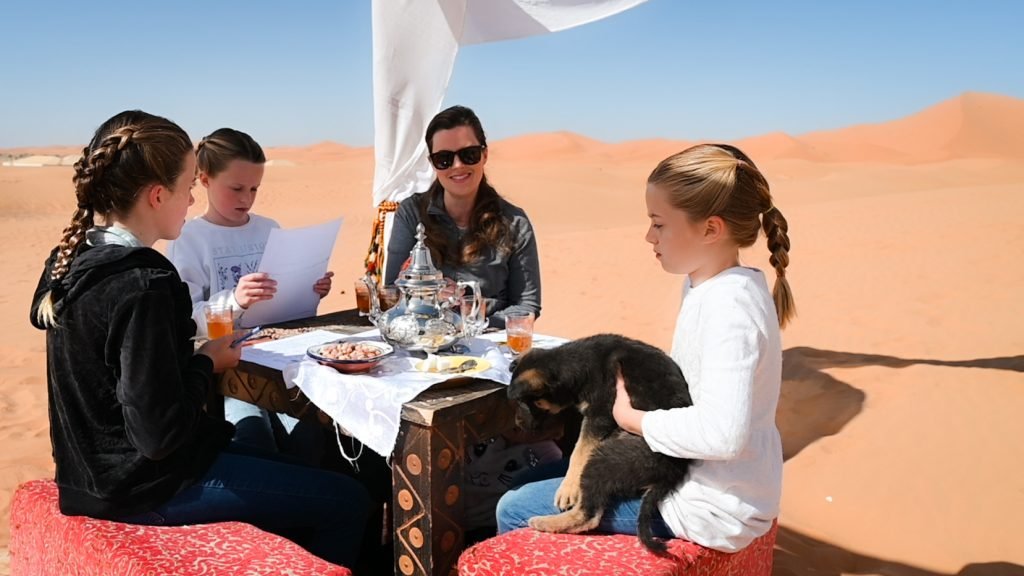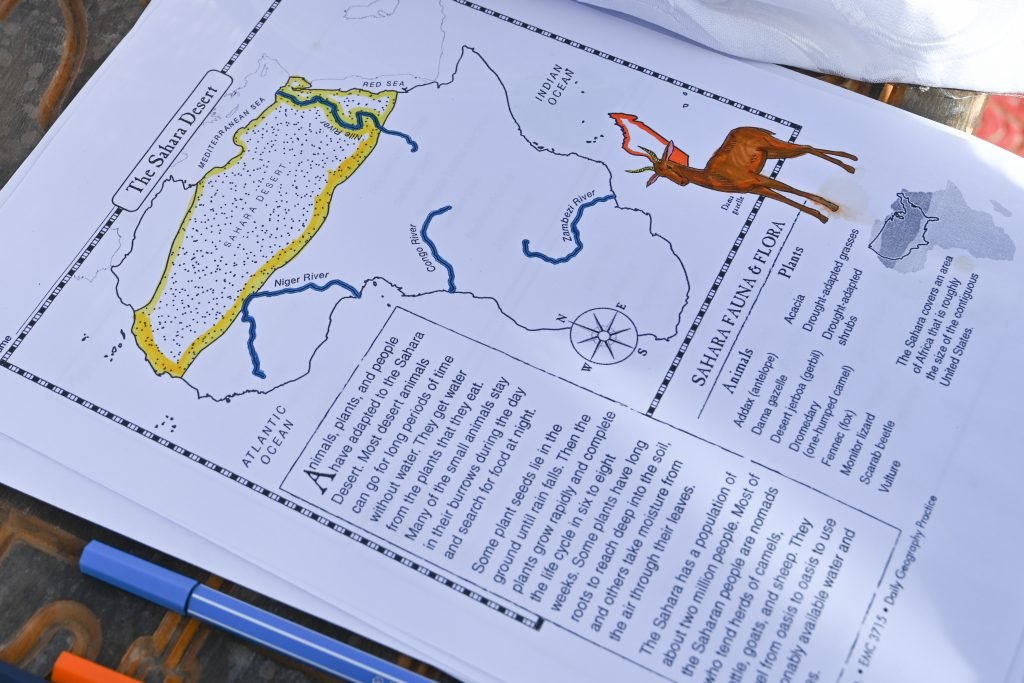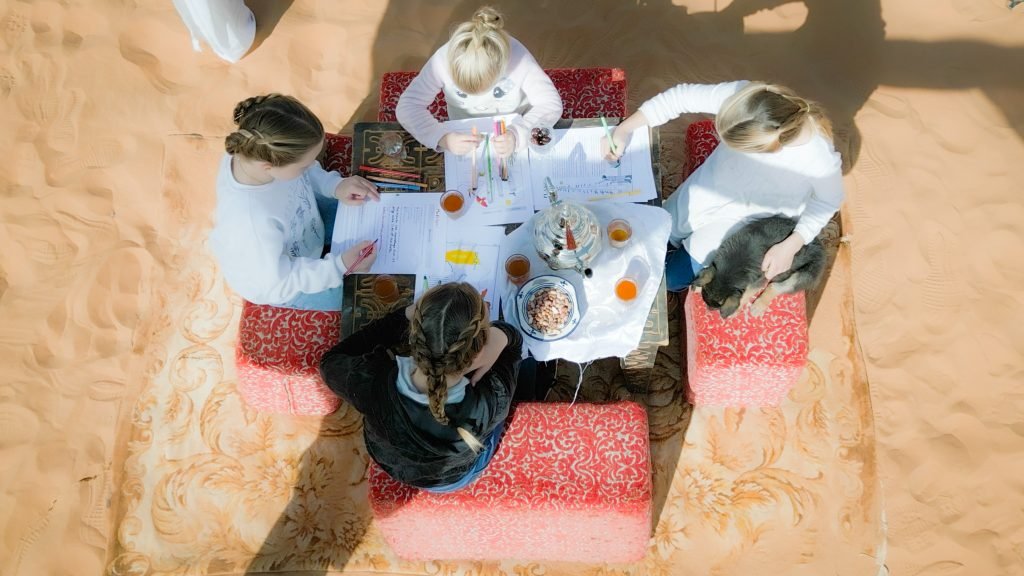 The learning is rich and deep.
As we discuss the activity sheet called "Playing it Cool in the Desert," we talk about how animals adapt to the desert so they can thrive. We discuss how how humans have also adapted to extreme climates like this. The Berbers, for example, wear head scarves to keep the sun off their faces and the sand out of their eyes.
We role play this by putting on our own desert scarves and notice how much better we feel with them on.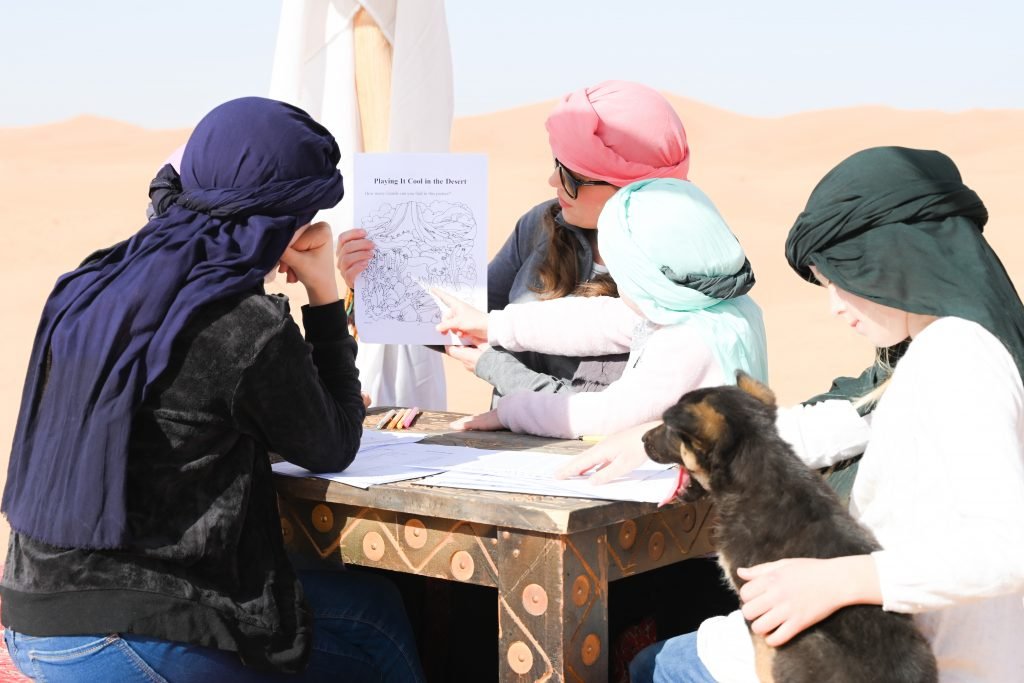 The girls ask all kinds of questions about the desert, and I love that I can feel their curiosity running wild. After several activities, I can see they've reached their height of excitement, and so we transition to tactile learning. It's time to get hands-on with the desert.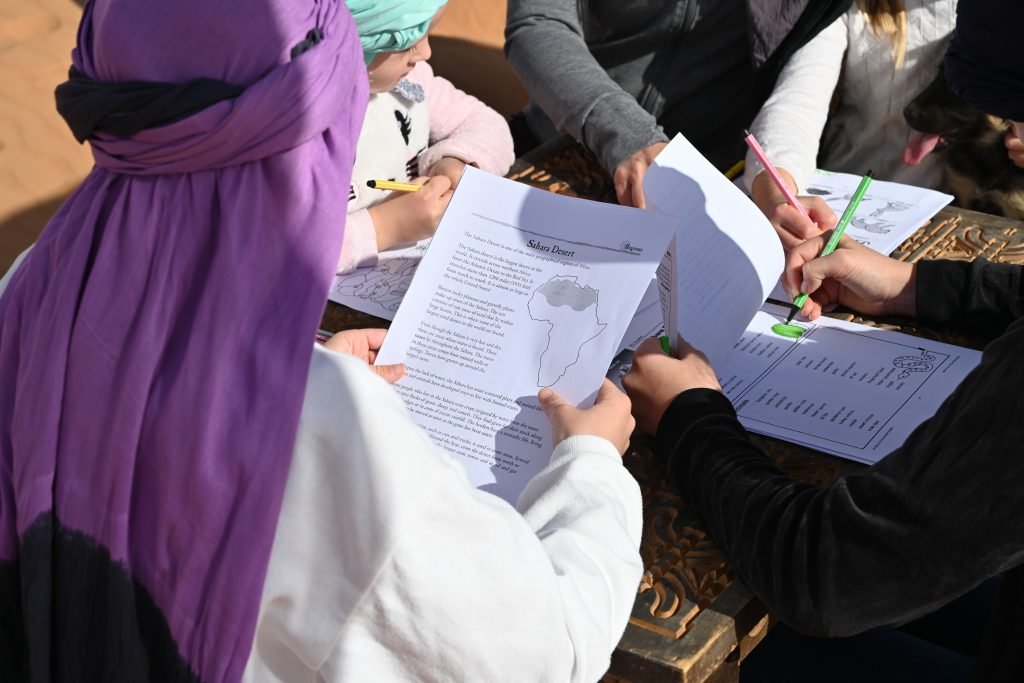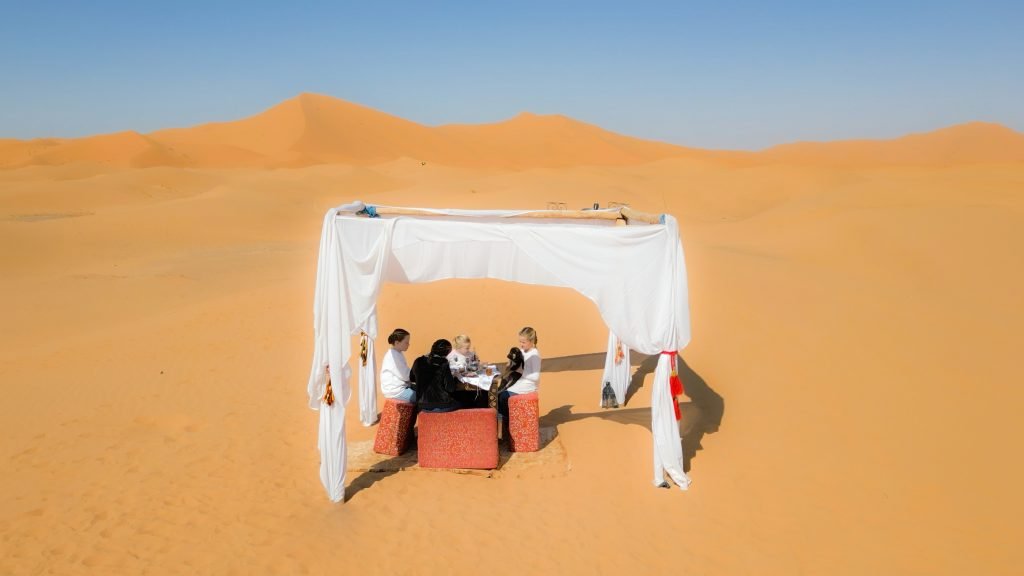 PLAY TIME – SAND BOARDING
When we finish our activity sheets, we are off to play in the desert and test some of our new found knowledge in the real world.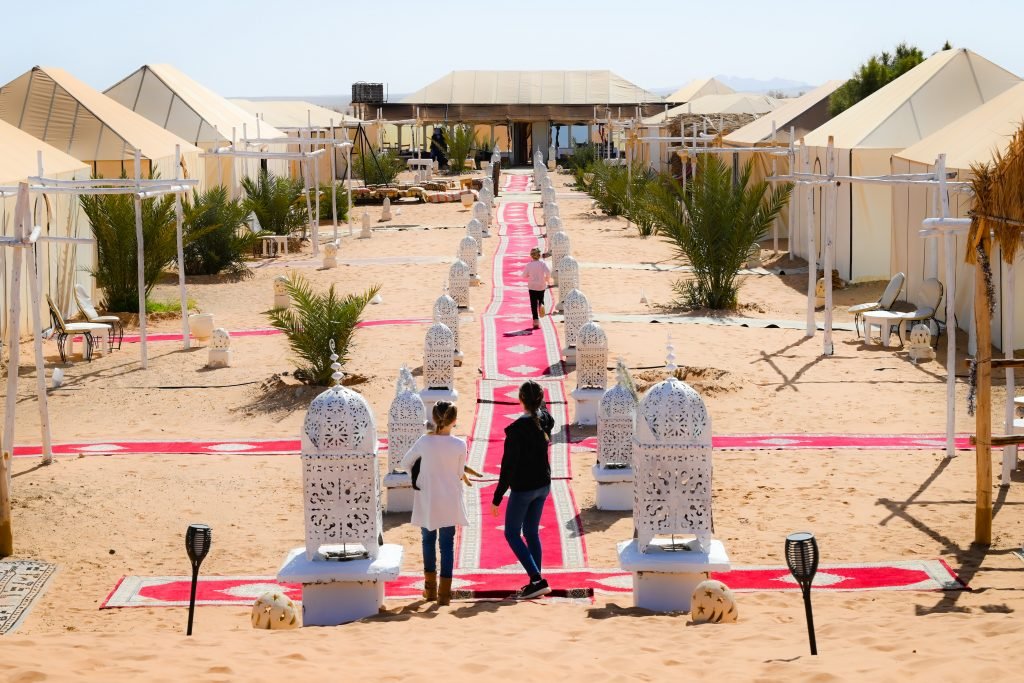 The kids opt for sand boarding first, and they hone their skills on the sand dunes using decommissioned snow boards as tools, courtesy of our camp.
It takes a while, but the girls soon get the hang of it and before long, they are sliding down the sand with ease, laughing hysterically as they learn.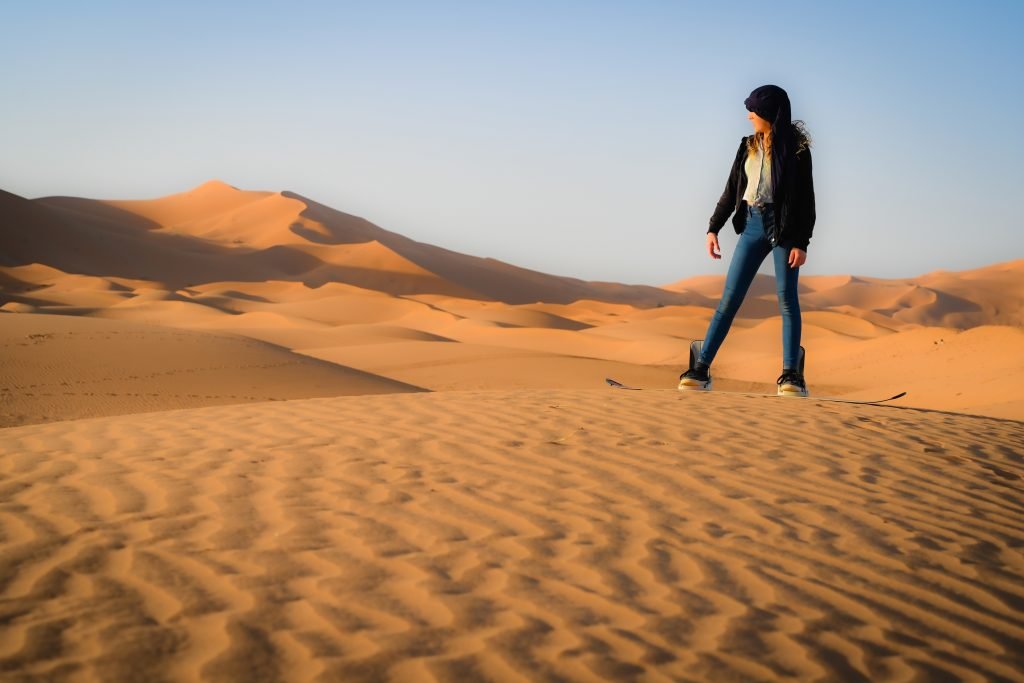 FAMILY TIME – 4x4s IN THE DUNES
After lunch, we're ready for a different challenge – taking 4x4s (with two guides) deeper into the Sahara Desert.
We speed along the dunes, making new discoveries every few minutes. We find an oasis and the kids remember the learning on their activity sheets about how important an oasis is in the desert – both for people and for animals.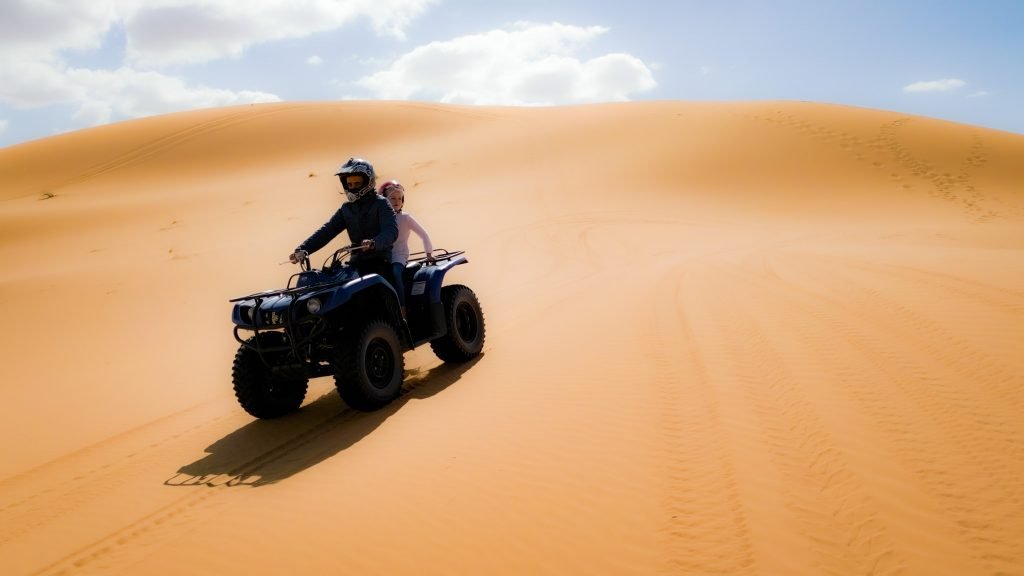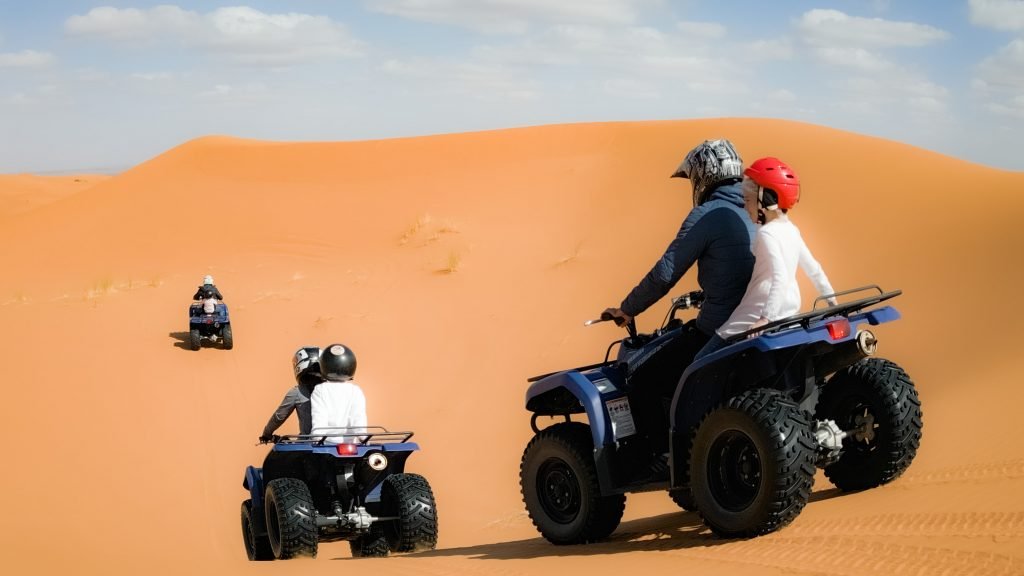 EVENING
As the afternoon sun begins to cool, our activities slow and we rest, letting the desert calm wash over us.
We spend time napping, journaling, drawing and practicing drumming patterns our Berber friends taught us the night before. Life is beautiful, and there's no where else we'd rather be.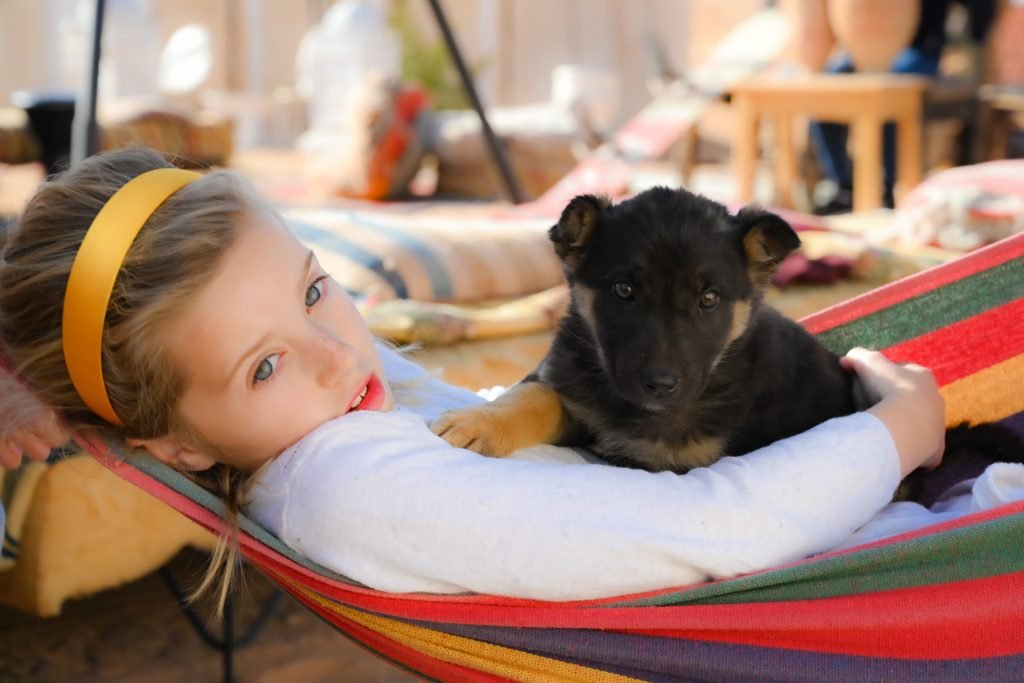 With the sunset comes a new glow on the ever-changing colors of the sand, and again we find ourselves breathless with anticipation as we pause to wonder at the desert biomes' extremes.
My twelve-year Reagan volunteers to take the camels for a walk, imagining herself to be a child living in the desert as part of the Berber tribe.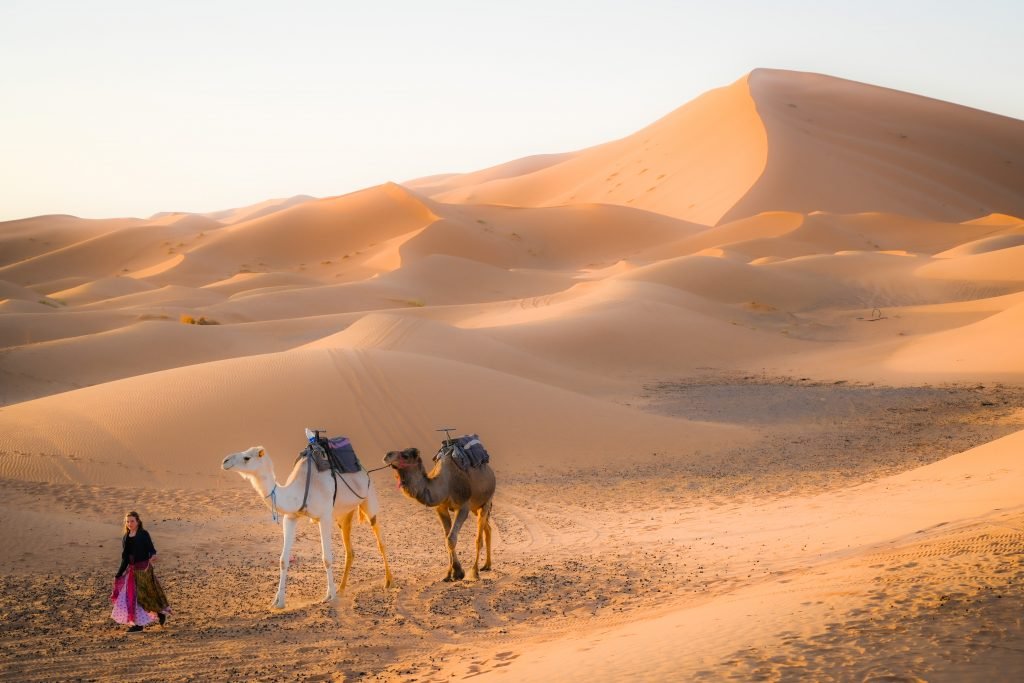 The girls run into the sunset, remembering this day of learning with the Sahara Desert as our classroom.
We have a new-found appreciation for the desert, for its animals, and for the people who live here.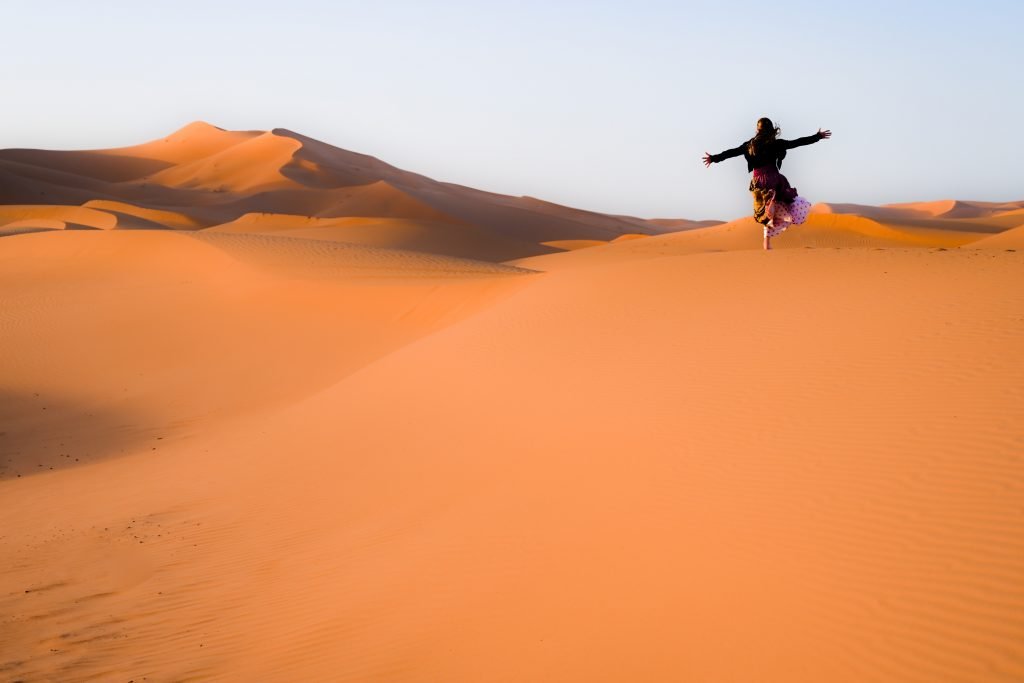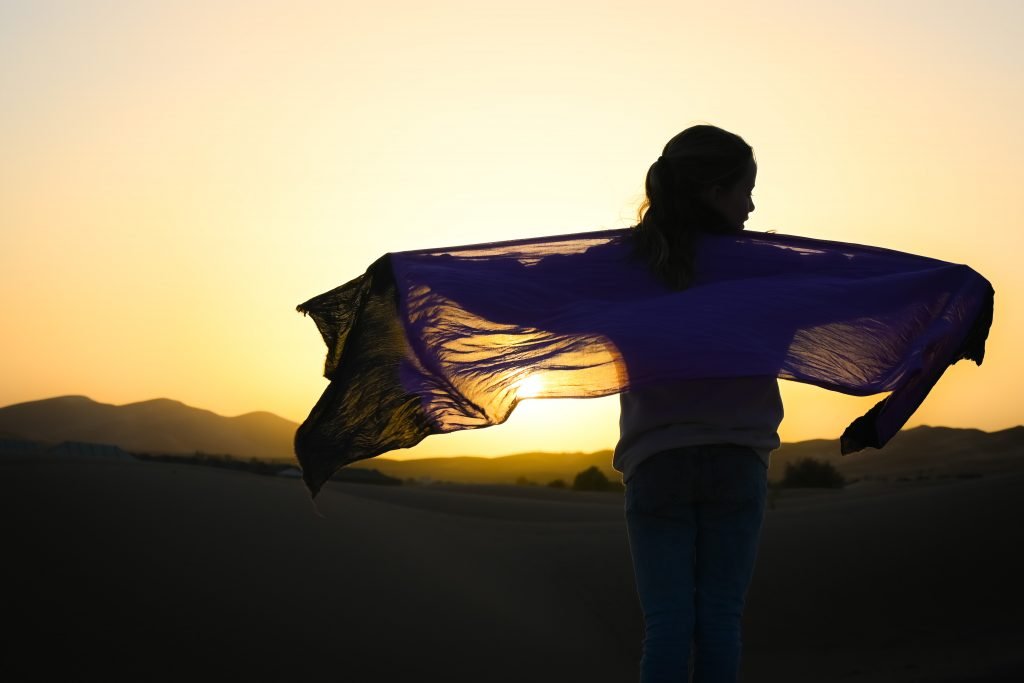 For more information about the Sahara Desert as a family travel destination or about the Teacher File Box learning tool, please send an email to janelle@adventurefamilyjournal.com and I'll be happy to support you however I can.
Note: This blog may contain affiliate links, for which I receive a small commission if you click through to check out the product and decide it's a great fit for you. It's my joy to share about real products and services that have enriched our lives as a family, and I hope you get to enjoy them too!